As North Korea Risks Ease for Now, U.S. Funds Love South's Bonds
By and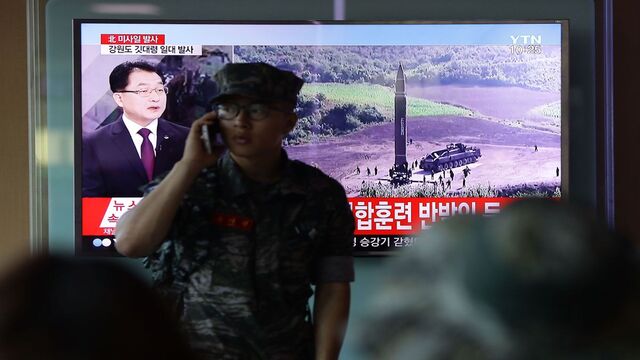 Global investors in South Korean debt have found a sweet spot amid a recent lull in geopolitical tensions on the peninsula.
Average yield premiums on dollar bonds issued by Korean companies recently dropped to the lowest in more than four months, as a pause persists in the North's missile and nuclear tests. The situation means pricing on South Korean debt might be just right for some foreign investors. The yield pickup is still attractive after increases earlier this year, when tensions ran higher, but with relative calm recently that's now helping push spreads down.

Anthony Leung, the Hong Kong-based director of Asia-Pacific credit research at Wells Fargo & Co., said he saw renewed interest in South Korean dollar notes during a visit to the U.S. earlier this month.
"U.S. investors are increasingly finding the current trading levels as fair value" for the notes, Leung said.
At the same time, local money managers -- the biggest investor base -- are retreating due to "very attractive onshore yields and expensive cross-currency swap rates," he said.
Issuance of international bonds by Korean borrowers has increased 16 percent this year to $31.6 billion, Bloomberg-compiled data show.
"Korean issuers will continue to need U.S. support and are willing to have a diversified investor base," he said. "But they will have to get used to paying up a bit more to woo U.S. investors. It will be the new normal."
Before it's here, it's on the Bloomberg Terminal.
LEARN MORE