Anti-Immigrant Party Could Swing Australian State Election
By
Queensland state election may see One Nation play kingmaker

Main parties may struggle for majority in Saturday's ballot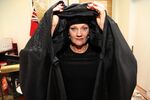 Pauline Hanson, the firebrand anti-Muslim immigration lawmaker who has rattled Australian politics from the fringes for more than 20 years, could be on the verge of a breakthrough in one of the country's biggest states.
Her One Nation party is tipped to win a clutch of seats Saturday in the Queensland state election, while the two main parties may struggle for an outright majority. That could make Hanson, 63, the kingmaker and see her party become a junior player in the state parliament.
"One Nation looks like it could play a big role in deciding the outcome of this election," said Chris Salisbury, a political analyst at the University of Queensland. "Hanson is a lightning rod for voters with grievances and has re-emerged on the political landscape at a time when there's a lot of disaffection with the major parties."
Premier Annastacia Palaszczuk, who is seeking a second term for her center-left Labor party, has ruled out forming a coalition with One Nation if she fails to get a majority, saying she'd rather lose office. Opposition leader Tim Nicholls, who heads the Liberal National Party, has also ruled out a formal coalition but indicated he could govern via a loose arrangement for One Nation's votes in parliament.
While the campaign has largely been fought on state issues, the result may also have implications for Prime Minister Malcolm Turnbull. His Liberal-National government lost its majority in the federal parliament after two lawmakers discovered they had dual-citizenship, in breach of the constitution, and were forced to quit the lower house.
Anti-Asian, Anti-Islam
Hanson was first elected to Australia's lower house in the 1990s on an anti-Asian immigration platform before her party imploded. After turning her sights on Muslim migrants, she returned to parliament in 2016 as a senator, along with three One Nation members.
The party, which is opposed to multiculturalism and wants to curb free trade, has tapped into the voter shift from mainstream parties that's also swept through the U.S. and Europe. Hanson was widely criticized in August for wearing a burqa in the federal parliament to highlight her demand for a ban on the garment in public places.
Hanson has campaigned heavily for her party in her home state, and says Palaszczuk, 48, and Nicholls, 52, have failed to provide clear leadership.
The development of a A$16.5 billion ($12.6 billion) coal mine in the state by India's Adani Group has become the most heated issue of the campaign, with supporters saying it will create thousands of jobs, and opponents citing increased carbon pollution that could further damage the Great Barrier Reef.
Jobs Promises
Palaszczuk has rejected federal funding for a railway line linking the mine to the coast, a decision Nicholls says jeopardizes the project and puts future jobs at risk. Some areas of the state, which has the nation's second-highest unemployment rate, are struggling to recover from the end of a decade-long mining investment boom.
Labor says 122,500 jobs have been added under its watch since 2015 and has pledged more funds for training and infrastructure. The LNP has said it will increase spending from resource royalties in regional areas and cut electricity bills by ending renewable energy subsidies.
One Nation won 11 seats in the 1998 Queensland election, but because Labor won a majority it wasn't needed to form government. Polls indicate Labor and the LNP will struggle on Saturday to win the 47 seats needed in the 93-seat parliament to govern in their own right.
A Sky News/ReachTel poll of Queensland voters released Tuesday had Labor leading the LNP 34 percent to 30 percent and One Nation on 17 percent of the primary vote.
Before it's here, it's on the Bloomberg Terminal.
LEARN MORE