Venezuela Tells Diplomats to Tighten Belts as Money Runs Out
By
Memo obtained by Bloomberg shows calls to cut rent expenses

Government drafting Manual for Renting Diplomatic Headquarters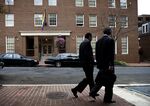 The cash crunch afflicting Venezuela, which has already led to defaults on some bonds, shortages of basic goods at home and IOUs scribbled to service providers, has now come knocking on the doors of the socialist nation's consulates and embassies around the world.
All of Venezuela's diplomatic missions globally are being urged to renegotiate rent agreements with the goal of achieving "substantial savings," Foreign Minister Jorge Arreaza said in an internal memo dated Nov. 15 obtained by Bloomberg. A legal framework for doing so is being drafted under the title "Manual for the Procedure of Renting Diplomatic Headquarters," the memo said.
"We're evaluating the situation of rents for all of our diplomatic missions to obtain substantial savings," Arreaza said in the memo, entitled real estate rentals, that was sent to all foreign staff. "We encourage you to begin a renegotiation of your rent with the owner of the property. If a renegotiation isn't successful, you'll be expected to deepen your efforts in the search for a more viable -- and affordable -- option to support the savings of the republic's financial resources."
The government of President Nicolas Maduro is facing a reckoning as years of low oil prices and limited financing options drain international reserves. The regimen is trying to renegotiate more than $60 billion of international bonds sold by the government and state-run oil firm PDVSA with late payments already prompting ratings agencies to declare the issuers in default. To make matters worse, oil output has sunk to below 2 million barrels a day and stands at the lowest since 1989.
The memo from Arreaza is in line with accounts from other Venezuelan diplomats, some of whom are receiving their wages as many as three months behind schedule, according to testimony of several active officials who spoke on the condition of anonymity fearing reprisals.
The Foreign Ministry didn't immediately reply to phone calls and emails seeking comment.
Venezuela has about 80 embassies and consulates around the world in far flung places including Benin and Jakarta, with an average of ten employees per office.
Landlords of the diplomatic offices are also feeling the austerity. Late rent payments have spurred lawsuits in some countries and smaller offices in Africa are considering closing their doors for good, one person said. Last week, the embassy in Santiago, Chile received an alert that it would soon have its power cut off, another person said.
Before it's here, it's on the Bloomberg Terminal.
LEARN MORE