U.S. Condemns Myanmar's Rohingya Crisis as Ethnic Cleansing
By and
Secretary of State Tillerson adopts term as official policy

Move may lead to 'possible targeted sanctions,' Tillerson says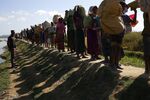 The U.S. condemned Myanmar's treatment of its Rohingya Muslim population as "ethnic cleansing," a designation that Secretary of State Rex Tillerson said could lead to "possible targeted sanctions."
While Tillerson suggested any new sanctions would be narrowly focused, the U.S. denunciation undercuts Myanmar's international standing as it is beginning to recover from decades of economic isolation under its former military junta and could stem the flow of foreign investment into the country.

"After a careful and thorough analysis of available facts, it is clear that the situation in northern Rakhine state constitutes ethnic cleansing against the Rohingya," Tillerson said in a statement Wednesday. He said the U.S. would work through the United Nations and also "pursue accountability through U.S. law, including possible targeted sanctions."
Tensions in U.S. relations with Myanmar may provide an opening to China, which is also seeking to resolve the crisis but seldom injects human rights concerns into its foreign policy dealings. China, which backed Myanmar's military junta for over two decades as the West put sanctions on the regime, is now seeking to build an economic corridor stretching from landlocked Yunnan province to the Bay of Bengal.
At a joint press conference on Sunday with Myanmar leader Aung San Suu Kyi, Chinese Foreign Minister Wang Yi outlined a three-point solution that would allow Myanmar and Bangladesh to resolve the situation. The steps included a cease-fire, repatriation of refugees and talks on a long-term solution.
Read more: A QuickTake Q&A on Myanmar's Rohingya refugee crisis
A senior Chinese general told Myanmar's army chief on Wednesday that China was willing to enhance military ties with its neighbor and jointly safeguard regional stability. China would like to boost exchanges to ensure peace and stability along their common border, according to a statement on the official website of China's defense ministry.
"In the face of a complex and changeable regional security situation, China is willing to maintain strategic communication between the two countries' militaries," Li Zuocheng, chief of the People Liberation Army's Joint Staff Department and a member of the Central Military Commission, told Senior General Min Aung Hlaing in Beijing.
On a visit to Myanmar this month, Tillerson said events in Rakhine state had the "characteristics of crimes against humanity," but he stopped short then of describing the situation as ethnic cleansing.
The decision to adopt the term "ethnic cleansing" as official U.S. policy followed a recommendation made by senior State Department officials. "My bosses have said it appears to be ethnic cleansing. I'm of that view as well," Patrick Murphy, a senior U.S. diplomat for Southeast Asia, was reported as saying last month.
Suu K
Sanctions under consideration would target individuals for specific acts of violence, a State Department official told reporters. Broad-based economic sanctions aren't being considered because the U.S. doesn't want to undercut the fledgling civilian government, according to the official, who briefed reporters on condition of anonymity.
Tillerson added that he didn't believe broad-based economic sanctions against mostly Buddhist Myanmar would help resolve a crisis that has seen more than 600,000 minority Muslim Rohingya refugees flee to neighboring Bangladesh.
The current crisis was sparked in August when militants from the Arakan Rohingya Salvation Army attacked 25 police and army posts, killing a dozen security officials in Rakhine state.

The military responded with what it calls "clearance operations." Multiple reports have since accused security forces and Buddhist vigilantes of indiscriminately attacking Muslims in the state and burning their villages, with UN Secretary-General Antonio Guterres already describing the campaign as "ethnic cleansing."
Suu Kyi, a Nobel laureate and former political prisoner, has seen her reputation tarnished by the Rakhine crisis.
She has come under fire for not speaking out more forcefully against the violence and for questioning reports that government security forces and Buddhist vigilantes indiscriminately attacked Rohingya and burned their villages. She initially scoffed that reports of human rights violations were "a huge iceberg of misinformation" intended to promote the interests of terrorism.
The State Department defended Suu Kyi on Wednesday, with an official telling reporters she has begun speaking out about the situation and has been working to reach a solution, which the U.S. will continue to encourage. The military maintains control over security forces and the country's borders, limiting the civilian government's power, the official said.
— With assistance by Jason Koutsoukis
Before it's here, it's on the Bloomberg Terminal.
LEARN MORE