U.K. Curbs Home-Buying Taxes While Unveiling Land-Banking Review
By and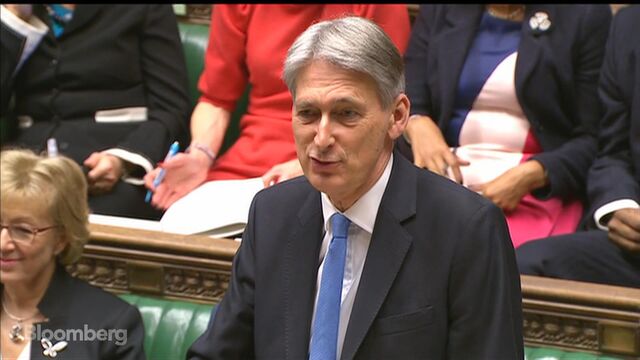 U.K. Chancellor of the Exchequer Philip Hammond's measures to help young people into the housing market underwhelmed investors and sent home-builder stocks tumbling.
In his budget speech Wednesday, Hammond abolished stamp duty for first-time buyers of homes worth up to 300,000 pounds ($398,000) as the Conservative government sought to regain support among the younger voters who abandoned them at the last election.
At the same time, he commissioned a review into the gap between building approvals and the number of homes built, and pledged compulsory purchases if developers are found to be hoarding land -- known as land-banking -- for commercial purposes.
The measures announced were disappointing, said Charlie Campbell, an analyst at Liberum Capital in London. Some had also been "expecting more detail on Help to Buy, especially how it would be extended," he said, referring to another key government program.
Barratt Developments Plc was the biggest decliner among major home builders, falling 3 percent as of 3:35 p.m. in London. Persimmon Plc dropped 1.9 percent, while Taylor Wimpey Plc slipped 1.3 percent. Real estate broker Foxtons Group Plc gained 6.3 percent on speculation it will benefit from the stamp-duty cut.
House prices across most of the U.K. have recovered since the global financial crisis, with areas including London and the South East now out of reach for the bulk of young voters. The average cost of a first home in the U.K. capital reached a record 409,975 pounds, up 66 percent since 2012, with an average deposit of 106,577 pounds, according to lender Halifax. That compares with median gross annual earnings for full-time U.K. employees of 28,600 pounds.
No 'Big Difference'
On its own, the stamp-duty measure "isn't going to make a big difference -- the wider issue for the market still hinges on affordability," said Johnny Morris, director of research at broker Countrywide Plc. "But given that we were expecting a holiday," it will help housing activity, he said.
The abolition of stamp duty will also apply to the initial 300,000 pounds of the purchase price of first homes up to the value of 500,000 pounds, Hammond said.
The tax measure will cost the government 3.2 billion pounds through the fiscal year ending 2023, according to the budget documents. The measure will help 95 percent of first-time buyers up to a maximum of 5,000 pounds and 80 percent of them will pay no tax at all, the government's analysis shows.
There was, though, skepticism among some property specialists that the stock market was interpreting Hammond's announcements correctly.
"People have got the wrong end of the stick on the land-banking review -- it could be a buying opportunity," said Anthony Codling, managing director in the research department at Jefferies International Ltd. The review is unlikely to find evidence of hoarding by developers, while the stamp-duty cut and other measures will be of little benefit to housebuilders, he said.
Wooing Youth
"There is one area where young people today will feel concern and that is regarding housing," Hammond said in his speech to lawmakers Wednesday. "It takes too long to save for a deposit and rents absorb too much of peoples' monthly income."
Britain's Office for Budget Responsibility, which is independent of the government, isn't so sure the tax cut will help affordability. In figures published alongside Hammond's budget speech, it said it expects the measure to increase house prices by 0.3 percent, therefore benefiting sellers.
First-time home buyers paid average stamp duty of 3,960 pounds in the 12 months through June, generating 1.17 billion pounds in tax receipts, according to Countrywide.
The land-banking review will be completed in time for the chancellor's spring statement, Hammond said.
Hammond's Package
This, and the tax cut, were part of a package of measures announced by the finance minister that are designed to boost house building and make homes more affordable. There were also additional funding for infrastructure, the redevelopment of housing estates and for loan guarantees, as well as additional money to unlock "strategic" development sites, Hammond said.
Hammond also confirmed the government will raise its home-building target to 300,000 net additional homes a year on average. The overall package is worth 44 billion pounds over the next five years.
"We were expecting a stronger policy change to first-time buyers," Credit Suisse Group AG analysts including Samuel Thomas said in a note. "The maximum house-price limit of 300,000 is half that of the Help-to-Buy scheme threshold" for London.
Before it's here, it's on the Bloomberg Terminal.
LEARN MORE