Texas Congressman Barton Apologizes After Lewd Photo Emerges
By
Spokeswoman says 17-term congressman has no plans to resign

Congressman says Capitol police investigating incident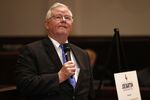 Texas Republican Representative Joe Barton apologized Wednesday after a lewd photo of himself surfaced on the internet, but a spokeswoman said he has no plans to resign.
Barton, a senior member of the House Energy and Commerce Committee, said in a statement that while he was separated from his second wife he had consensual sexual relationships "with other mature adult women" that are now over.
"I am sorry that I did not use better judgment during those days," Barton said. "I am sorry that I let my constituents down."
Barton, 68, released the statement after a nude photo of himself and graphic text message were circulated on social media. The congressman, who was first elected to Congress in 1984, was quoted by the Texas Tribune as saying he is deliberating his political future. His spokeswoman Sarah Dodd said in an interview Wednesday that he has no plans to resign and filed for re-election earlier this month.
In a second statement released late Wednesday Barton said he had accepted an offer from United States Capitol Police to investigate the incident.
"This woman admitted that we had a consensual relationship. When I ended that relationship, she threatened to publicly share my private photographs and intimate correspondence in retaliation," Barton said.
Barton issued that statement after the Washington Post reported late Wednesday on a recording of a 2015 phone call it had obtained in which Barton told a woman he had sent sexually explicit materials and messages that he would report her to the police if she exposed his behavior.
Barton, who was chairman of the energy panel for three years starting in 2005, has used his perch as a powerful advocate for his state's oil and gas industry, including helping push through legislation in 2015 that lifted a nearly 40-year-old embargo on most crude oil exports.
Before it's here, it's on the Bloomberg Terminal.
LEARN MORE