SandRidge Jumps After Icahn Takes Stake, Blasts Bonanza Deal
By and
Gas company's shares jump as much as 8.6 percent after hours

Icahn calls Bonanza Creek Energy acquisition 'nonsensical'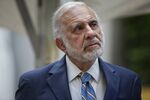 Carl Icahn has taken a 13.5 percent stake in SandRidge Energy Inc. and says he and his affiliates intend to vote against its "nonsensical" agreement to acquire Bonanza Creek Energy Inc. for about $746 million.
The billionaire investor said in a regulatory filing Wednesday that he may also propose alternative transactions at a later date and might call a special shareholder's meeting to remove the company's board. SandRidge rose as much as 8.6 percent after the close of regular trading.
It's the first activist stake taken by Icahn since December 2015 when he invested in Pep Boys -- Manny Moe & Jack, which was bought by Icahn Enterprises the following year, according to data compiled by Bloomberg.
Representatives of Icahn attempted to reach SandRidge Chief Executive Officer James Bennett Wednesday and will continue trying to meet with him and his management team soon, according to the filing.
Icahn and his partners said they looked "forward to hearing what possible justifications management could have for entering into such a seemingly ill-advised, dilutive and value-destructive acquisition and why they believe the transaction is anything more than an entrenchment technique."
A representative for the oil and gas producer didn't immediately respond to a request for comment.
'Reckless Abandon'
Icahn said he had read other shareholders' opposition to the SandRidge deal, including the views of Fir Tree Partners. Though Icahn said he hasn't spoken directly with anyone at Fir Tree, he said he "could not be more in agreement" with it, especially its conclusion that the Bonanza Creek transaction reminds it of "SandRidge's prior history when this same management team acquired disparate assets and added leverage with reckless abandon."
Shares in the Oklahoma City-based SandRidge fell as much as 21 percent after it announced its plans this month to acquire Bonanza Creek in a cash-and-stock deal. The transaction is expected to be voted on by shareholders in March and to close by the end of the first quarter.
Icahn, who rose to fame in the 1980s as a corporate raider, has since re-branded himself as an activist investor and shareholder advocate.
Quotes from this Article
Before it's here, it's on the Bloomberg Terminal.
LEARN MORE