Russian Metals Billionaires Hope for Peace as 'Shoot Out' Looms
By and
Nornickel lock-up for Potanin and Deripaska expires on Dec. 10

Talks have begun on extending shareholder pact to 2027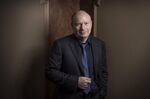 A shoot out is looming in Russian metals.
That isn't a reference to the industry's blood-soaked history, but to a clause in a hard-won peace deal between two billionaire shareholders of MMC Norilsk Nickel PJSC, Russia's largest miner.
The 2012 agreement between Oleg Deripaska's United Co. Rusal and Vladimir Potanin's Interros Holding Co. provides a mechanism by which one man can buy out the other's stake in Nornickel. That mechanism is called a "shoot out," and becomes possible after a five-year lock-up period expires on Dec. 10, according to a Rusal letter to shareholders published in 2014.
Potanin, one of Russia's richest men with an $18 billion fortune, told Bloomberg he has no immediate plans to initiate the so-called shoot out -- a forced auction where the loser must sell his stake to the winner.
"The instrument of the shoot out was designed for a dead-end situation," he said in an interview. "It's not a proactive measure."
In fact there are discussions to extend the peace deal, which is due to expire in 2022, for a further five years, according to Potanin, who is also Nornickel's chief executive.

The agreement, which was reached after the intervention of Russian President Vladimir Putin, brought an end to a four-year feud between Potanin and Deripaska over control of Nornickel. Under it, a third billionaire, Roman Abramovich and his partners, took a stake in the miner. Potanin and Deripaska's Rusal now have about 30 percent and 27.8 percent of Nornickel, respectively.
Potanin said the shareholder agreement was working well and that "all three parties are interested" in an extension.
Abramovich's spokesman and Deripaska's spokeswoman declined to immediately comment.
Under the shoot-out provision in the shareholder agreement, Potanin and Deripaska may offer to buy out the other's stake in Nornickel for at least 20 percent more than the six-month average share price. Any such offer would be a high-stakes gambit and trigger a price auction in which the loser was obliged to sell his stake to the winner.
Nornickel's current market value is about $28 billion, meaning the billionaires' stakes are worth about $8 billion each.
"The shoot out offers an agreed mechanism for the company or Interros to coexist or acquire the other party's shares in Norilsk Nickel after the lock-up period," Rusal's board of directors wrote in the 2014 letter.
Potanin said that embarking on the shoot out "looks too expensive" and would mean a major increase in his own exposure to Nornickel.
He said it could be used in the event of a "dead end" in shareholder relations, or if one shareholder had a pressing need to sell assets. "It's a possible exit from an impossible situation," he said. "I think other shareholders also see this instrument as a last refuge."
Before it's here, it's on the Bloomberg Terminal.
LEARN MORE