Nelson Peltz's Firm Slams P&G for Questioning His Board-Seat Victory
By
Investor won independent inspector's recount last week

Billionaire shareholder had lost in earlier tabulation of vote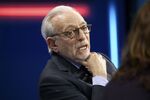 Trian Fund Management, the investment firm that fought to get co-founder Nelson Peltz elected to Procter & Gamble Co.'s board, criticized the consumer-products giant for contesting his narrow victory.
Peltz appeared to secure the board seat last week after results showed that he'd won by less than 43,000 shares -- or a margin of about 0.0016 percent -- according to the independent inspector IVS Associates Inc. But P&G is now reviewing and challenging IVS's count, Trian said on Friday.
"P&G shareholders should be concerned that P&G has opted to waste further time and shareholder money contesting the official tabulation of the independent inspector," the New York-based firm said in a statement. "The review and challenge process will be a continued distraction at a time when management and the board should be focused on improving business results and regaining lost market share."
P&G, the owner of brands such as Crest, Gillette and Tide, said that it was merely ensuring that the votes are being counted correctly.
"The IVS tabulation results are preliminary and are going through the customary review to ensure a final and accurate count," Damon Jones, a spokesman for Cincinnati-based P&G, said in an email. "P&G will disclose the results after receiving the independent inspector of elections' final certified report, which we are pushing to get as quickly as possible."
The IVS's finding last week marked an upset victory for Peltz. In presenting the original vote tally after its annual meeting in October, P&G said the activist investor lost his bid for the board seat.
Peltz launched the proxy fight in July, saying P&G had an unwieldy number of brands and that its "suffocating bureaucracy" was hurting its ability to compete.
Before it's here, it's on the Bloomberg Terminal.
LEARN MORE