Official U.K. Growth Forecasts Are Now Among Most Pessimistic
By
Figures presented by chancellor on Wednesday gloomier than BOE

Fiscal watchdog revises down growth estimates through 2021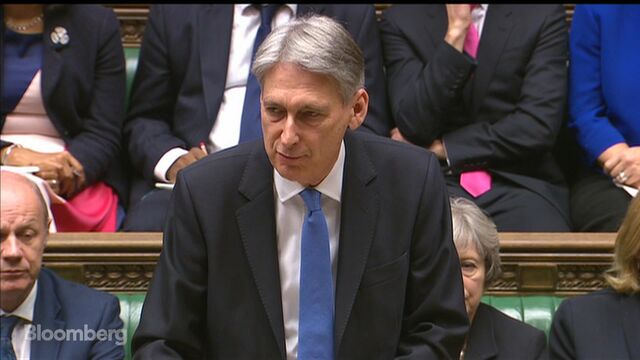 U.K. Chancellor of the Exchequer Philip Hammond presented some unwelcome news for the government Wednesday: its independent fiscal watchdog now ranks among the gloomiest forecasters in its judgment of the U.K. economy.

Growth is likely to slow to 1.5 percent this year and reach a low of 1.3 percent in 2019 and 2020 before recovering to 1.6 percent in 2022, Hammond said Wednesday while presenting his budget. The downward revisions, which follow from more pessimistic predictions of productivity and business investment, mean he has little fiscal space for meaningful giveaways he was under pressure to deliver.
It also means the Office for Budget Responsibility is less optimistic about the U.K.'s outlook than the Bank of England, as well as economists surveyed by Bloomberg.

— With assistance by Fergal O'Brien
Before it's here, it's on the Bloomberg Terminal.
LEARN MORE