Qatar's Elusive Riyal Spurs MSCI to Seek Change for Stocks
By
Offshore exchange rate trading at a discount to pegged rate

Saudi Arabia-led group cut ties with Qatar in early June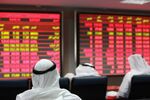 MSCI Inc. is proposing shifting to the offshore riyal rate to value Qatari stocks after investors complained that a boycott of the nation by its neighbors has made access to the onshore rate too difficult.
The index provider, whose gauges guide the allocation of about $11 trillion in assets, is consulting investors on a proposal to apply the WM/Reuters offshore spot rate to security prices and dividends for calculations, MSCI said in an emailed statement. The offshore rate was about 7 percent weaker than the onshore rate on Tuesday at 3.91 per dollar, according to prices compiled by Bloomberg. It has since fallen to 3.7538 per dollar.

Read More: What's a Qatari Riyal Worth? Depends on What It's Needed For
The proposals are being considered after "the level of accessibility of the local currency for foreign institutional investors decreased significantly," New York-based MSCI said in a statement. If the proposal goes through, it risks undermining the credibility of Qatar's exchange rate policy, which has pegged its currency to the U.S. dollar at 3.64 since 2001.
"Companies would have to choose one" of the rates to calculate their profits, said Naeem Aslam, a chief market analyst at TF Global Markets in London. "Moreover, the government would have to step in to help the companies and perhaps provide some special subsidies."
The gap between the onshore and offshore rates widened after Saudi Arabia and several other Arab nations accused Qatar of funding terrorist groups and cut political and commercial ties in early June. The embargo prompted Qatari banks to provide enough cash for domestic business, but not for trades deemed speculative, forcing investors to turn to the offshore market, people familiar with the matter said in July.
Qatar's central bank has repeatedly said it has adequate reserves to defend the peg. Governor Abdullah bin Saoud Al Thani didn't immediately respond to emailed questions on Wednesday.
More Damage
"A non-existent fundamental catalyst, a political deadlock, changing business environment, and now this news, will do nothing but more damage to investors' sentiments," said Aarthi Chandrasekaran, the vice president for research at Shuaa Capital in Dubai, adding that banks will be affected most.
The QE Index of stocks is the world's worst-performing benchmark gauge this year, plunging more than 25 percent to the lowest level since 2011. The selloff has driven its valuation, as measured by its price-to-earnings ratio over the next 12 months, to the lowest level in almost two years, making it the cheapest relative to emerging-market peers since January 2010, Bloomberg data show.
Qatar's equity gauge advanced 0.4 percent in Doha on Wednesday.
MSCI's new calculations would change index levels and performance, market capitalization, fundamental data, and annualized traded value ratios, it said in the statement. The index provider will collect feedback from investors until Dec. 1 and plans to announce a decision, as well as potential implementation dates for changes, by Dec. 5.
Shifting to the offshore rate will lower Qatar's weighting on the emerging market index, but "it is unlikely to be significant -- less than 5 basis points -- given the discount between official rate versus the local rate is just around 7 percent," Chandrasekaran said.
Qatar's 12 index members account for 0.52 percent of the MSCI Emerging Markets Index, according to data compiled by Bloomberg.
— With assistance by Mohammed Sergie
Quotes from this Article
Before it's here, it's on the Bloomberg Terminal.
LEARN MORE