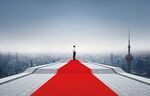 Fancy a stint in Shanghai, or a spell in Shenzhen? As the European Union's revised Markets in Financial Instruments Directive threatens analyst jobs from London to New York, demand for research on Chinese companies is growing at a fast clip.
Credit Suisse Group AG said this week it's hired 11 China equity research analysts in recent months while JPMorgan Chase & Co. plans to increase the headcount of its Greater China equity research team next year by as much as 40 percent.
Two events are driving the push: The inclusion of 222 large-cap A shares in the MSCI Emerging Markets Index from June next year, and the continued opening of the nation's securities market.
Investment banking headcount globally stabilized for the first time in six years last quarter, data from Coalition show, and it's not hard to see why institutions are giving China a closer look.
The country's $8.7 trillion stock market is a force to be reckoned with. Once the domain of individual investors, professional money managers now own about one-third of China's free float, up from 20 percent in 2011, according to research from Chongqing-based Southwest Securities Co. There's been a renewed love affair with China's largest blue chips, including firms such as Kweichow Moutai Co. and Ping An Insurance Group Co.
More liquidity means higher fees for brokerages, so there's money to be made.

Indeed, in the first half, 117 of China's 129 brokerages were profitable, earning a combined more than 55 billion yuan ($8.3 billion), data from Securities Association of China show.
A big challenge for bankers considering packing their bags, though, is how to tell the China story. Analysts anywhere keen to keep their corporate access privileges are often loath to stamp sell ratings on firms, and that tendency is even higher in China where rosy outlooks prevail. Of the 6,688 recommendations on 723 Chinese mainland-listed companies covered by at least five analysts, less than 5 percent were the equivalent of a sell.

China's market is also sentiment-driven. Take telecom-equipment maker ZTE Corp. Its mainland-traded shares are up 152 percent since January and 136 percent in Hong Kong as investors bet the company will benefit from the roll-out of a 5G network.
Macquarie Group Ltd.'s Chris Yu has a price target of 55 yuan for ZTE versus Wednesday's 40.15 yuan close. His colleague in Hong Kong, Allen Chang, has set his outlook at HK$35, or the equivalent of 29.7 yuan. ZTE's Hong Kong-traded stock is at HK$31.75.
Driving this discrepancy in price targets is the difference in earnings multiples. Whereas Chang has assigned a 20 times multiple to ZTE's expected 2018 results, Yu has used 30 times, or the historical average plus one standard deviation. Why one and not two? Well, that's arbitrary.
There's also a requirement that analysts covering mainland stocks be able to speak and read Chinese, plus decipher oftentimes dense and complicated company filings, something that would necessarily preclude many bankers from North America, Europe and other parts of Asia.
But for those with the language skills and a tolerance for China's vagaries, a CV update might be in order.
Before it's here, it's on the Bloomberg Terminal.
LEARN MORE