Lebanon's Hariri Delays Resignation, Vows to Protect Nation
By
Premier had announced he was quitting during trip to Riyadh

Decision is attempt to save current government, analyst says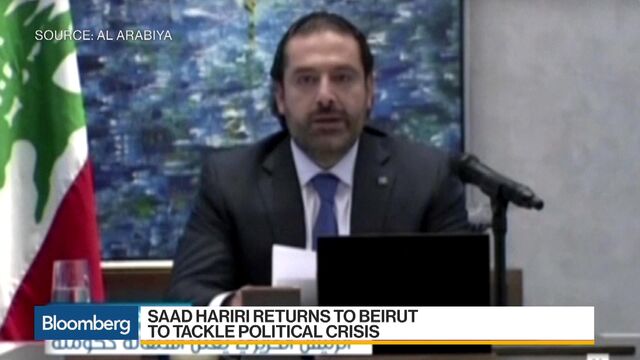 Lebanese Prime Minister Saad Hariri suspended his resignation after the country's president called for talks on how and why he ended up in Saudi Arabia this month and quit suddenly.
Hariri said he accepted a request from President Michel Aoun to delay his departure, temporarily defusing a crisis that's drawn in regional and global powers and rattled investors. The premier, who had said he feared for his life in Lebanon, has denied he was pressured by the Saudis to step down. He returned to Beirut late on Tuesday.
"I hope this will present a serious opening" for a dialogue that addresses political differences and their impact on Lebanon's relations with Arab nations, Hariri said at the presidential palace. "I look forward to serious participation from all political powers to put Lebanon's interests over any other interests."

Lebanese bonds rallied after Hariri's speech, with yields on the nation's Eurobonds due in October 2022 plummeting 42 basis points to 7.18 percent, according to data compiled by Bloomberg.
Hariri, a long-time ally of Saudi Arabia, announced he was quitting on an unexpected trip to Riyadh on Nov. 4, accusing Iran and the Hezbollah militant group it backs of destabilizing his country and threatening his safety. He returned after a near-three-week absence that raised concern Lebanon would again be caught in a showdown between the Middle East's two chief rivals for influence.
In a meeting called by Saudi Arabia, the Arab League on Sunday had criticized Iran's role in the region and designated Hezbollah as a terrorist group for its involvement in conflicts, including in Syria and Yemen.
Pivotal Role
"This is buying time to try to save the current government, which is key for Hezbollah because it provides the group with legal cover and a safety network," said Sami Nader, head of the Beirut-based Levant Institute for Strategic Affairs. "From now on Hezbollah will need to offer serious and official commitments for this to work."

Hezbollah plays a pivotal balancing role in Lebanon's delicate sectarian power-sharing government, as well as being a regional force, with combatants in Yemen, Iraq and helping President Bashar al-Assad prevail in Syria.
Hariri supporters gathered at his home in downtown Beirut in a show of loyalty to the prime minister. They waved blue flags, the color of his Future Movement, and raised placards that said: "We're all with you" and "You are our Lebanon." The crowd chanted "Saad, Saad" when he appeared at a window.
"This is an unforgettable moment," Hariri told them. "We are staying together to be the first line of defense for Lebanon." He then went down to walk among his supporters, shake hands and take selfies.
Read More: Saudis Spark Anger in Beirut as Another Foreign Foray Backfires
Earlier on Wednesday, Hariri joined Aoun and other top leaders to mark Lebanon's 74th Independence Day.
Bilal Saab, a senior fellow at the Middle East Institute in Washington, said the celebration was more symbolic than real.
"Lebanese can't really enjoy today because their prime minister is a political hostage of one foreign country and Hezbollah is pursuing to perfection the regional agenda of" another, he said.
Before it's here, it's on the Bloomberg Terminal.
LEARN MORE