Miami Marlins Are Looking to Raise at Least $150 Million
By
Morgan Stanley's private wealth management group leading raise

Jeter part of Bruce Sherman's ownership group of MLB team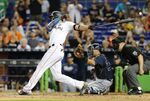 The Miami Marlins owners are seeking to raise at least $150 million and have tapped Morgan Stanley's private wealth management group to advise them, according to a person who was approached about the possible investment.
The money could be used to lower controlling owner Bruce Sherman's financial stake in the Major League Baseball franchise, among other possibilities. Sherman put up about $400 million of the $1.2 billion purchase price for the team, whose ownership includes former New York Yankees shortstop Derek Jeter. The money could also go toward repaying the investment firm founded by Michael Dell, which contributed $175 million.
Former Morgan Stanley wealth and asset management chief Greg Fleming, who represented Jeter in the purchase, and Randy Campbell, head of sports facility finance at Morgan Stanley, declined to comment. Mary Claire Delaney, a spokeswoman for Morgan Stanley, also declined to comment.
A representative for the Marlins declined to comment. The person who was approached about the investment asked not to be identified because the matter was private.
The Sherman-led group was approved in September as the owners of the money-losing Marlins, which it bought from Jeffrey Loria for $1.2 billion.
MSD Payment
The group's financing included capital from Dell's MSD Partners. The preferred equity, according to Forbes, includes a mandatory payment to MSD at an interest rate of 14 percent. The Marlins are required under the deal to pay back the entire amount in three years. If the Sherman-led group doesn't have the cash, it will have to give MSD equity in the club, Forbes said.
Jeter referenced the club's financial footing at the MLB general managers' meetings last week.
"There are some financial things we have to get in order," Jeter said. "It's an organization that's been losing money for quite some time, so we have to turn that around."
One money-saving move being discussed is trading All-Star outfielder Giancarlo Stanton, whose contract totals $295 million over the next decade. Stanton led the majors with 59 home runs last season.
— With assistance by Hugh Son
Quotes from this Article
Before it's here, it's on the Bloomberg Terminal.
LEARN MORE