Ireland Sees 'Reasonable Chance' of Brexit Talks Progress
By and
Irish foreign minister says up to the U.K. to move further

Coveney says wants significantly more progress on border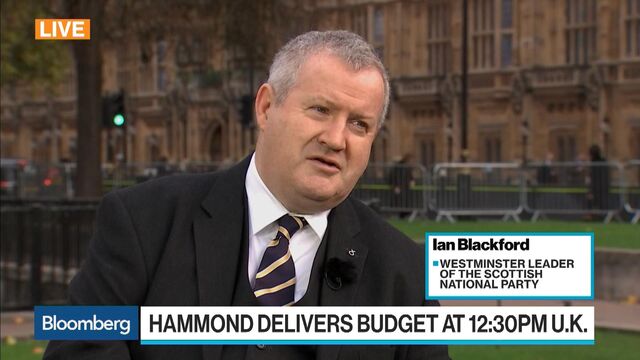 Irish Foreign Minister Simon Coveney raised the possibility of a breakthrough in Brexit talks next month, and urged the U.K. to make further concessions to allow talks to move to trade.
"We have a reasonable chance for sufficient progress in December, " Coveney told reporters in Belfast on Wednesday. "It's Britain that controls the odds."
The comments may signal some growing optimism that progress can be made next month. Last week, Coveney warned his British counterpart, Boris Johnson, that efforts to solving the border question are at "somewhat of an impasse."
The border is one of three key issues that have been identified, along with citizens' rights and money owed by the U.K., that require "sufficient progress" toward a resolution before the EU will allow talks to move on to Britain's future trade relationship with the bloc.
More needs to come from the U.K., Coveney said, as he cited Hong Kong as an example of a region with a bespoke trading arrangement within a wider nation state.
"When Ireland says, and when the EU taskforce says, we need significantly more progress and reassurance and clarity on the Irish border issues, we mean it," he said. "We will not accept a situation where we are expected to simply facilitate to move onto the opening of phase 2 discussions in the absence of getting credible answers in phase 1 on the border issues."
Need Movement
Coveney's position was buttressed by Prime Minister Leo Varadkar, who told lawmakers in Dublin that the U.K. hadn't yet provided a satisfactory response to a proposal to avoid a hard border through Northern Ireland playing by the same rules as those operating in the south.
Varadkar pledged to stand firm in the face of any pressure to move talks on without enough progress on the border question.
"We could be in for difficult few weeks and months ahead," he told lawmakers in Dublin on Wednesday. "We haven't come under any pressure as yet to soften our position, but I'm not so naïve to think that might not occur. But even if we are isolated, we have to hold this position."
Prime Minister Theresa May is ready to put more money on the table to settle the Brexit divorce bill -- but wants the European side to give her something in return.
"There's need for movement on the financial settlement issue," Coveney said. "We got some yesterday but there's need for a bit more. "
Before it's here, it's on the Bloomberg Terminal.
LEARN MORE