How Hammond's Stamp Duty Cut Was Drawn-Up Behind His Back
By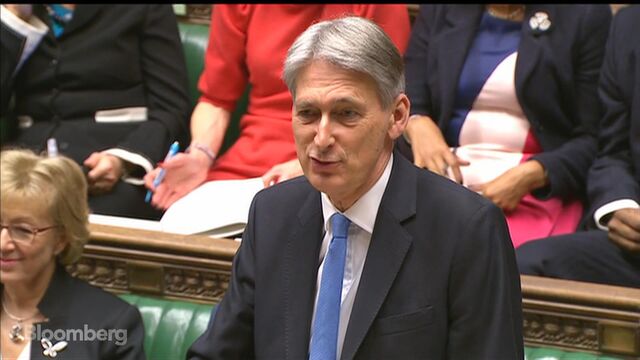 The policy to cut taxes on home-buying, announced by Philip Hammond on Wednesday, was first drawn up behind his back by advisers to Prime Minister Theresa May.
The evolution of the plan shows how much power May has over her chancellor's economic remit -- and hints at her Conservative party regretting not being bolder during this year's failed election campaign. 
In the lead-up to the election, May's aides drafted a proposal to scrap a tax on buying homes -- known as stamp duty -- believing it would appeal to younger voters who are struggling to buy their first homes.
They ultimately decided against including it in the party's manifesto but regretted the decision after they failed to win a majority in Parliament when the vote was held in June. Now, five months later, a more modest version of the plan -- to help first-time home-buyers -- is becoming reality.
The episode is revealed in "Betting the House," a book on the election co-authored by Bloomberg's Tim Ross and Politico's Tom McTague, which describes how May's inner circle did not trust Hammond and set about writing their own economic policies without telling him what they were doing.
Hammond faced repeated rumors that May and her aides were planning to fire him during the campaign and they refused to show him drafts of the party's manifesto, the book says. The idea came from May's own policy unit and her chief economic adviser, Douglas McNeill. They didn't tell Hammond about it at the time, the book says.
The evolution of the policy suggests Hammond's lack of clout contrasts with more powerful predecessors such as Labour's Gordon Brown -- who was given huge sway over domestic policy by the then-premier Tony Blair and closely guarded the contents of his own budget.
Before it's here, it's on the Bloomberg Terminal.
LEARN MORE