FOMO Fails to Drive European Stocks While Rest of World Parties
By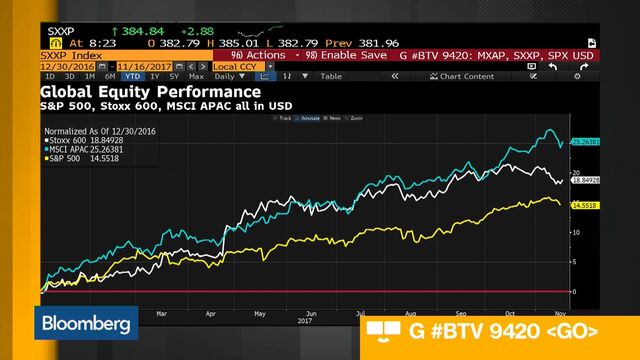 While stock benchmarks around the world are hitting multi-year milestones, one region has resisted contagion.
In Europe, fear of missing out hasn't driven demand for equities, leaving the Stoxx Europe 600 Index more than 6 percent away from a record it last reached in April 2015. Meanwhile, investors have sent U.S. and Asian indexes to fresh peaks this week. Hong Kong stocks closed Wednesday at their highest level in a decade and the MSCI Emerging Markets Index rose to a six-year high.
Even as stock strategists highlight an improving economic and earnings outlook, the European benchmark has come off worse than global peers amid a scarcity of technology and recent misfortunes of some of its megacaps. Benchmarks in Spain, Italy and Portugal are nowhere near levels seen before the euro-area debt crisis, while a gauge of lenders -- the region's biggest industry group -- is down 66 percent from its 2007 high.

European equities held up better against the MSCI All-Country World Index until a few weeks ago. Germany's DAX Index churned out 25 new records in the past seven months, the U.K.'s FTSE 100 Index hit a fresh peak earlier in November and France's CAC 40 Index closed at its highest level since the global financial crisis just weeks ago. But while global equities recovered quickly from a mid-November selloff, European stocks have struggled to do the same.
The risk-on rally in Asia did little to ignite bulls in Europe on Wednesday. The Stoxx 600 added less than 0.1 percent as of 10 a.m. in London.
— With assistance by Blaise Robinson
Before it's here, it's on the Bloomberg Terminal.
LEARN MORE