European Stocks No Turkeys When It Comes to Thanksgiving Rally
By
Year-end rallies in Europe show higher average returns

Would take an economic growth scare to derail 2017: JPMorgan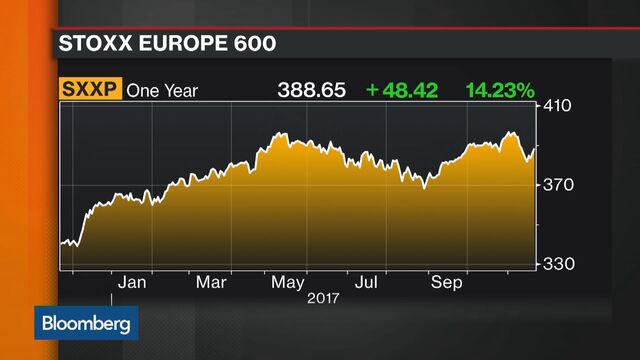 A market strategy from the New World is actually more effective in the Old, according to JPMorgan Chase & Co.
The tendency for stock markets to rally from Thanksgiving to the end-of-the year is stronger for European markets and average returns are higher, the bank's strategists Ayub Hanif and Khuram Chaudhry wrote in a note to clients. Over the long run, when the strategy has failed, market losses have been lower, they said.

JPMorgan wouldn't disclose the timeframe it analyzed but cited an exception in 1970, suggesting the study goes back more than four decades.
In Europe, the year-end rally yielded positive returns 74 percent of the time, with average returns of 3.2 percent, according to the report. The "hit-rate" for U.K. stocks was 76 percent, with average returns of 2.8 percent. U.S. markets experienced end-of-year rallies 70 percent of the time with on average 1.5 percent return.
The strategists noted that the performance of year-end rallies is even stronger when market returns leading into the year-end have been strong. So far this year, the Stoxx Europe 600 has risen just over 7 percent while the S&P 500 is up about 16 percent.
Still, year-end rallies have been less effective during environments such as the dot-com crash and financial crisis. This may be down to economic growth expectations being revised down, according to the JPMorgan analysts, who are sanguine about prospects for the remainder of the year.
"Today, although our broad quant framework suggests a more cautious stance, one would really need to believe in an economic growth scare before year-end to derail the rally," they said.
Before it's here, it's on the Bloomberg Terminal.
LEARN MORE