Fellow Democrat Urges Conyers to Step Down From Committee After Allegations
By and
Michigan lawmaker serves as top Judiciary Committee Democrat

Conyers under ethics panel review over sexual harassment claim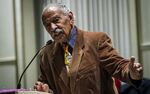 Two Democrats called on Representative John Conyers to step down as the top Democrat on the Judiciary Committee while the House Ethics Committee investigates sexual harassment claims against him. A third party member said Conyers should resign from office.
Representative Raul Grijalva of Arizona, co-chairman of the largest group of congressional liberals, said Wednesday that Conyers "at a minimum" should step aside from his leadership role on that panel. 
Grijalva joined Representative Gregory Meeks, a New York Democrat and member of the Congressional Black Caucus, who said Wednesday morning "it would not be appropriate" for Conyers to stay in the Judiciary position while the investigation takes place.
"No one is exempt from bad behavior," Meeks said on CNN.
Grijalva, the top Democrat on the House Natural Resources panel, was interviewed on "C-SPAN Newsmakers," scheduled to air Wednesday night and Sunday. He was asked whether Conyers, the longest serving House member, should resign or step down.
"The ranking member needs to step down, at the minimum," said Grijalva, the co-leader of the 76-member Congressional Progressive Caucus.
Representative Kathleen Rice, a New York Democrat known for bucking party leadership, called on Conyers to resign, saying the allegations against him are "as credible as they are repulsive."
"We all know credible allegations when we hear them, and the same is true of hypocrisy," Rice said in a statement.
Conyers, 88, of Michigan, is the longest serving House member and was one of the founding members of the Congressional Black Caucus. The statements from the three lawmakers go further than the response from their party's leaders and may indicate pressure is building in Congress for more forceful responses to harassment accusations.
House Democratic leader Nancy Pelosi of California has backed the ethics investigation and broader revisions in how Congress handles sexual harassment, but stopped short of calling on Conyers to step down from his position on the Judiciary committee. Speaker Paul Ryan, a Wisconsin Republican, also hasn't called on Conyers to step down or resign from office.
Meeks said there should be an option for Conyers to return as ranking member if, after the investigation, he's cleared of wrongdoing. "If he defends himself and says and shows there is nothing there, then he could come back," he said.
Conyers is under investigation by the Ethics Committee over allegations of sexual harassment after the revelation of a $27,000 settlement agreement he reached with a former staffer who said she was fired for rejecting his sexual advances. Conyers has acknowledged the settlement but denied any wrongdoing.
"I expressly and vehemently denied the allegations made against me, and continue to do so," Conyers said in a statement Tuesday.
Before it's here, it's on the Bloomberg Terminal.
LEARN MORE