Temer to Rally Coalition for Make-or-Break Pension Effort
By and
Temer hosting dinner with coalition lawmakers on Wednesday

Event is part of push to secure backing for pension changes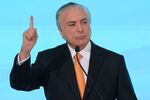 Brazil President Michel Temer on Wednesday sought to rally his ruling coalition behind a pension bill in an all-out effort that could make or break much of his remaining 13 months in office.
Temer and his Finance Minister Henrique Meirelles hosted lower house deputies at a dinner to garner support for a bill to cap pension spending that has been watered down but still helps fix Brazil's tattered public accounts. The latest version of the bill aims to keep around 60 percent of the 750-800 billion reais ($230 billion-$250 billion) savings envisaged in the government's original pension proposal, Meirelles told reporters Wednesday afternoon.
"It could be a little more, it could be a little less, but this is what we are currently estimating," he said.
Here's What's at Stake in Brazil as Pension Bill Nears Congress Vote
The government planned to gauge its support at the dinner and only put the bill to a vote in Congress if it has a reasonable margin beyond the three-fifths majority it needs for approval, according to two people familiar with the administration's strategy who asked not to be named.
The bill's rapporteur, deputy Arthur Maia, planned to speak to reporters about the revised legislation after the dinner, according to a press release.
'Reshape Our Country'
Meirelles set out the latest version in his comments to the media, saying that the minimum pension contribution period will be 15 years, rather than the 25 originally proposed, and that the disability benefits and current pension system for rural workers will not change.
The bill would also introduce minimum retirement ages of 65 for men and 62 for women.
The controversial bill has languished in Congress for months amid successive waves of corruption allegations. With lawmakers' attention shifting to re-election campaigns next year, Temer has been forced to ease some of the bill's key provisions to keep its prospects alive.
Earlier Wednesday Alexandre Baldy, a congressman from Goias, was sworn in as cities minister, the first part of a planned cabinet reshuffle aimed at shoring up support for the pension bill. "It is important to have the courage to reshape our country," Temer said at the ceremony.
On Tuesday the government announced the launch of a large-scale advertising campaign aimed at assuaging concerns about the pensions bill among the general population.
That campaign is the government's best chance to turn the tide in favor of the proposal, according to political consulting firm Eurasia. It gives approval of the bill a 40 percent probability.
— With assistance by Rachel Gamarski
Before it's here, it's on the Bloomberg Terminal.
LEARN MORE