Bill Cosby Can Be Sued Over Lawyer's Threats to Sue Media
By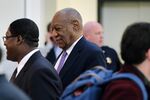 Bill Cosby can be sued for defamation over letters his lawyer sent to media outlets threatening to sue them if they reported a former model's claim the comedian drugged and raped her in 1982.
A California appeals court on Tuesday said the letters Cosby's lawyer Martin Singer sent in 2014 to ABC's "Good Morning America" and other media outlets, after Janice Dickinson first went public with her accusations, were "a bluff intended to frighten the media outlets into silence" and not protected by a "litigation privilege."
Dickinson, who has appeared on numerous reality TV shows, accuses Cosby of defamation for claiming in the letters as well as in a press release that her allegations were fabricated.
Before it's here, it's on the Bloomberg Terminal.
LEARN MORE