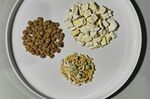 The amenities attached to the burgeoning luxury bunker business are well documented. In Georgia, purportedly the safest house in America has an infinity pool, a car vault that holds 30 vehicles, and access to an off-grid water supply. But there are other important considerations to address, such as: What does one eat in one's secure dining room.
Like the bunker housing market, emergency foods are a fast-growing industry in the U.S. That's partly due to the rising frequency of natural disasters, plus the fact that retailers such as Walmart, Home Depot, and REI are making more room on their shelves for emergency foods. Products range from no-nonsense FEMA-style MREs (meal, ready-to-eat), designed for the victims of real emergencies, to more Burning Man-style leisure products. The popular company Augason Farms, in business since 1972, offers a 'Turkey Feast Pail' with (freeze-dried) turkey, gravy, mashed potatoes, green bean casserole, honey white rolls, and pumpkin pie that they promise will be good "today, six months from now, or several years from now." 

The Utah-based Wise Co., purveyors of Wise Foods, is the leader in the emergency foods category. Over the past four years, it has seen retail sales double to about $75 million. According to Aaron Jackson, chief executive officer of Wise Foods, sales in the emergency food business are about $400 million annually.
Bloomberg taste-tested products from three major emergency food manufacturers—Wise Foods, Mountain House, and Emergency Essentials LLC—to determine if their products deserved a place in your bunker. Interestingly, the past is present for most survival food companies; entrees such as stroganoff and chicken à la king are as available as if entering a bunker meant time traveling back to the '70s.  For this taste test, we compared different versions of "Chili Mac" and "Teriyaki Rice," dishes that are available across brands with some minor variations. (For instance, some are made with real meat, others with textured vegetable protein. Also notable: Emergency Essentials stocks Mountain House on its website and thinks Mountain House products are the best; EE does not directly replicate anything that Mountain House packages.) Bon appétit!  
Mountain House
For the Burning Man casual outdoorsy set, Mountain House offers attractive packaging (happy campers around a makeshift fire), easy prep (the heatproof package tears open and doubles as a cooking container), and a relatively short ingredient list.

Chili Mac With Beef
Taste: as if you had installed a chef in your secure house. Large, al dente elbow macaroni mixed with ground beef and kidney beans luxuriate in a tasty, well-spiced sauce. Added benefit: It holds up well after it's been cooked; it's still in good shape an hour or two later, in case you're dealing with unexpected invaders—or decided to take a dip in your bunker pool.
Appearance: It could have been food styled: good-looking ingredients in chunky chili sauce.
User Friendliness: simplicity. Just add boiling water to the package.
Depressing Factor: Nonexistent. You would be happy to eat this just about anywhere.
Per Serving: $2 and 230 calories

Chicken Teriyaki
Taste: sweet and soy flavors that don't punch you in the face. Colorful vegetables (peas, peppers, mushrooms) appear alongside modest chunks of chicken. The chicken looks like pressed meat but tastes real.
Appearance: Like a chicken-and-rice dish you'd see on a hot buffet at an OK restaurant.
User Friendliness:  Excellent for poorly equipped people, it requires only tearing open the bag, pouring in boiling water, and counting down the minutes.
Depressing Factor:  low, especially if you remember school lunches fondly.
Per Serving:  $3 and 230 calories
Wise Company
At the forefront of the emergency food storage business, Wise specializes in survivalist solar backpacks and starter kits. Inside are packages with big pictures of the food and no-nonsense directions on how to prepare it. Wise is the most cost-efficient of the brands.

Teriyaki Rice 
Taste: oddly like orange juice, although none is on the ingredient list. Both sugar and brown sugar, however, are among the top four ingredients.  The result is something that tastes Hawaiian in nature with little pieces of vegetables and bits of something that you suspect is chicken until you see "textured vegetable protein" on the ingredient list. On the plus side, the rice ends up well cooked.
Appearance:  like a gloppy rice side dish.
User Friendliness:  moderate. Requires a pan in which you mix the food with boiling water and let sit. Takes about 15 minutes; cleanup required.
Depressing Factor: moderate. It's not very good, but it might at least make you feel that you're in the tropics.                   
Per Serving:  $3.90 and 270 calories

Chili Mac
Taste: bland and slightly sweet, with a chemically aftertaste. The most notable chili aspect of it is the brick red color. What looks like—but doesn't taste like—beef is textured vegetable protein; pinto beans are mushy and so is the elbow macaroni if you cook according to package directions.
Appearance: recognizable as a saucy macaroni dish; better than it tastes.
User Friendliness: Pour into a vessel, add boiling water, and let stand.
Depressing Factor:  like gloppy SpaghettiOs with different pasta.             
Per Serving:  $1.10 and 240 calories
Emergency Essentials
Another company that takes emergency preparedness seriously is Emergency Essentials, which sells water filtration systems and buckets that can healthfully store food for four for 72 hours. Notable about this company: It also sells Mountain House products and believes them to be the best; if Mountain House makes a product, Emergency Essentials won't do its own. But it does cover all manner of staples, from butter powder to shelf-stable bacon, good for survivalists with a DIY focus.

Chili with Beef Crumbles
Taste: The dish is badly in need of salt and improved by adding a separate package of beef crumbles, which Emergency Essentials also sells. The resulting chili is pretty soupy, but with solid flavor from the well-cooked kidney beans.
Appearance: like a soupy chili that might be someone's secret recipe.
User Friendliness: not very. More like cooking, this has to simmer over heat for 15 minutes.
Depressing Factor:  Bring salt to the apocalypse.
Per Serving:  $3.20 and 390 calories

Teriyaki Rice
Taste: shockingly sweet. Dessert rice would be a more appropriate name. With tiny strips of bell peppers and little cubes that the ingredient list would like you to believe are carrots. On the plus side, the rice ends up well cooked,
Appearance:  notable for the shine and gloppiness of the sauce.
User Friendliness:  As above, you'll need a pan and about 10 minutes of cooking over a heat source, plus frequent stirring.
Depressing Factor: high, unless you like eating dessert for dinner.
Per Serving:  $1 and 250 calories
Before it's here, it's on the Bloomberg Terminal.
LEARN MORE