Balance of Power: Focus on Sexual Misconduct Looms Over 2018 Elections
By
Democrats are wagering that President Donald Trump's support for embattled Alabama Senate candidate Roy Moore -- along with a flood of other sexual misconduct allegations nationwide -- will boost their chances in next year's midterms.
Democrats have run more than eight times as many campaign ads since the accusations against Moore surfaced. One quotes Trump's daughter Ivanka as saying there's a "special place in hell for people who prey on children."
Of course, sexual impropriety is nothing new to U.S. politics, but the sea change in American public life triggered by revelations about film producer Harvey Weinstein's long history of sexual abuse has prompted scores of mea culpas from senior men in Hollywood, the media and politics (Democrats included). That's focusing attention on the issue -- as well as the infamous tape that emerged weeks before last year's presidential election, in which Trump boasts about making unwanted advances toward women.
If Moore -- accused of pursuing sexual relationships with teenagers -- loses next month in a state that Trump won by nearly 30 percentage points, it could be a sign that public outrage is shifting voting patterns.

Sign up to receive the Balance of Power newsletter in your inbox, and follow Bloomberg Politics on Twitter and Facebook for more.
Global Headlines
Just in | Former Bosnian Serb military Commander Ratko Mladic has been sentenced to life in jail for genocide and other war crimes by the International Criminal Tribunal for the Former Yugoslavia
Merkel's grand ambition | Chancellor Angela Merkel's team reckons they'll be able to wrangle another grand coalition and dodge a repeat election. The Social Democrats, Germany's second-biggest party, insist they want to go into opposition after the worst showing since World War II in September's election. But Merkel's advisers say the prospect of an even bigger defeat if the vote is rerun will eventually change their minds.
Zimbabwe turns to the "Crocodile" | Robert Mugabe's right-hand man for half a century before his dismissal this month, Emmerson Mnangagwa, is due to be sworn in today as Zimbabwe's leader after the president quit, ending his 37-year rule. Nicknamed the "crocodile" during the liberation war against white-ruled Rhodesia, the Chinese-trained former spy chief favors wooing both eastern and western investors to help lift the economy off its knees.
U.K. budget | Prime Minister Theresa May is looking to her chancellor today to deliver a bold and generous budget to reel in disenchanted voters that deserted her Conservative Party in June's elections. Phillip Hammond, however, is likely to disappoint given the patchy economic outlook and the wildcard that is Brexit – it appears he'll stick to his target of balancing the books by 2025, and that leaves little money to give away.
Undue sway on AT&T deal? | Trump said AT&T's merger with Time Warner would be "not good for the country," comments that could raise fresh questions about whether he's exerted undue political influence on the Justice Department to block the deal. David McLaughlin and Christopher Palmeri profile the Justice Department attorney behind the bombshell lawsuit.
 Jobs versus the environment | The fate of Indian billionaire Gautam Adani's plan to develop a giant $12.4 billion coal mine in Australia rests with voters in the northern state of Queensland who go to the polls this weekend. Opponents say the mine would exacerbate coral bleaching that's already damaged large swathes of the Great Barrier Reef. Supporters say the mine will help create thousands of new jobs in the struggling state.
And finally… Hollywood couldn't have filmed it any better. Dramatic footage of a North Korean soldier's defection over the demarcation line with South Korea was released by the United Nations Command today, in what is undoubtedly a major propaganda coup for U.S. Forces Korea and South Korea's military. It shows a daring escape, a brave rescue and evidence of North Korea's violation of the 1953 armistice agreement.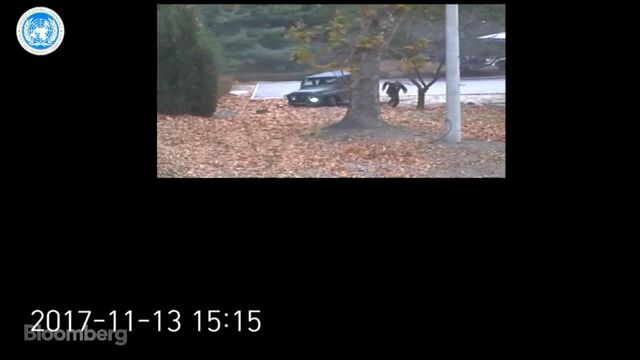 — With assistance by Sam Kim, and Karl Maier
Before it's here, it's on the Bloomberg Terminal.
LEARN MORE