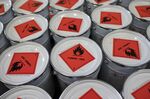 Akzo Nobel NV's plan to buy rather than get bought has hit a road block.
The Dutch paint maker's talks to merge with Axalta Coating Systems Ltd. are off after its U.S. peer received a rival takeover proposal from Japan's Nippon Paint Holdings Co. Akzo shareholders have been spared a potentially overpriced deal which would also have been a deterrent to a bid for the company itself.

CEO Thierry Vanlancker was right to have a go at Axalta, given the prospect of potentially lucrative cost savings and the extra access to some attractive markets. The difficulty was price. Axalta's shares trade at a higher multiple of earnings than those of Akzo. Scrunch the pair together, even without a premium, and Akzo's shareholders would have had a smaller slice of the pie than their profit contribution would have merited.

The combination would have created more antitrust hurdles to another bid from PPG Industries Inc., which tried and failed to buy Akzo earlier this year. That would have deprived the Dutch company's shareholders of a potential take-out premium.
Axalta has no firm agreement with Nippon yet and the Japanese bidder's shares are reacting badly to the prospect of filling Akzo's shoes. A deal at a 30 percent premium to Axalta's undisturbed stock price would cost $12 billion, including assumed debt. The return on acquisition would be a meager 3.5 percent after tax if you use Axalta's estimated operating profit for 2018. Nippon would need big synergies to justify a purchase.
Failure of the Nippon talks would give Akzo a way back in—but don't count on it. The situation serves to highlight the bind Vanlancker is in. The weak share price limits his options in M&A, when deals would help him reach the profitability targets Akzo set when it was fighting off PPG. Meanwhile, the Dutch company has promised to hand shareholders the proceeds of any sale of its specialty chemicals unit, a self-imposed straight-jacket on dealmaking.
All Vanlancker can do is try to strip more costs out of Akzo in the hope of getting its share price up, enabling him to lead consolidation rather then languishing as a target for PPG.
Regulatory restrictions barring PPG from making another bid will lift at the end of the month. A separation of specialty chemicals will probably come next, and chairman Antony Burgmans is set to retire early next year -- all potential catalysts for a new bid.
PPG's CEO, Michael McGarry, knows a large body of Akzo shareholders want him to come back. But he still needs to win over the board and Dutch establishment. Right now, things probably aren't going so badly at Akzo to make them receptive, so an offer would need to be generous financially and include widespread assurances on jobs and sustainability. Vanlancker is a man in a hurry. McGarry needn't be.
Before it's here, it's on the Bloomberg Terminal.
LEARN MORE