Schaeuble Presses German Parties as Bid to End Deadlock Resumes
By , , and
Merkel ally and former finance chief sees no national crisis

Stability is a 'Made in Germany' hallmark: chancellor's aide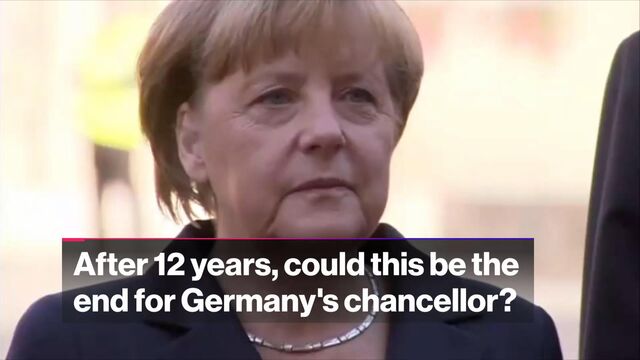 Wolfgang Schaeuble, Germany's de-facto elder statesman, called on parties to halt polarization and start building a government as Chancellor Angela Merkel raises the prospect of new elections to break the political stalemate.
Merkel's failed talks on forming a fourth-term coalition are thrusting her former finance minister and ally into an elevated role in his post as president of Germany's 709-seat lower house, which formally elects the chancellor. Two months after a national vote handed Merkel a new mandate but not a majority, policy makers are increasingly facing the fact that Europe's dominant country may be hamstrung for weeks or months.

"It is a test, but it's not a crisis of the state," Schaeuble, 75, said Tuesday in a speech to the Bundestag, which includes the anti-immigration Alternative for Germany for the first time. It's an "unusual situation" that requires a spirit of compromise on all sides "to preserve the political decision-making ability that's rightly expected of us."
Germany's president, Frank-Walter Steinmeier, met with Green party leaders as part of his effort to sound out possibilities for a new government. Much depends on his talks later Tuesday with the pro-market Free Democratic Party, which walked out of coalition talks with Merkel's Christian Democrat-led bloc and the Greens on Sunday. 
Key Party
FDP head Christian Lindner took a hard line, telling party members in a letter "the experiment of a four-party coalition is unfortunately finished." He said relations were strained by differences over issues like burden-sharing in the European Union.
Investors shrugged off the disarray, with both the euro and Germany's DAX stock index rebounding from initial losses. On Tuesday, the benchmark DAX was up 1 percent at 5:04 p.m. in Frankfurt. The euro was little changed at $1.1728.

Steinmeier is calling on all parties to try again to reach a deal, saying Germany's neighbors would be concerned if politicians "in Europe's biggest and economically most powerful country failed to live up to their responsibility." Merkel said the breakdown of coalition talks was no reason to back off her pledge to lead for another four years, telling ZDF television that "Germany needs stability now."
Merkel "creates continuity" in the European Union and it's "extremely important" that Germany finish the task of forming a government, Finnish Prime Minister Juha Sipila said in an interview in Helsinki on Tuesday.
Twelve years into her chancellorship, Merkel's former coalition partners are wary of another deal after emerging from previous alliances bruised or broken. It's a sign of her diminished influence after Europe's refugee crisis helped send her party bloc to a historic low in September's election while bolstering the Alternative for Germany.
Bad Blood
The Social Democrats, part of Merkel's "grand coalition" over the past four years, are refusing a rerun after suffering their worst electoral defeat since World War II. SPD policy victories, such as a national minimum wage and gender quotas for supervisory boards, didn't prevent the party's decline.
"We have a very difficult situation," SPD caucus chairwoman Andrea Nahles said. "Merkel doesn't have the power to build a new government."

The FDP is wary because it crashed out of parliament after failing to impose its tax-cutting agenda as Merkel's partner between 2009 and 2013.
And then there are personality clashes that burdened the latest talks. Merkel, 63, doesn't trust FDP's Lindner, 38, who harshly criticized her during the refugee crisis. She sees him as an opportunist and populist who avoids responsibility, according to a person close to her. Lindner, meanwhile, has never been an admirer of Merkel, an FDP party official said.
'Made in Germany'
Personal vanities won't stop Merkel's CDU from continuing to look for a compromise. Peter Altmaier, her chief of staff, said it may take another three weeks to find out if forming a viable coalition is still possible.
"We are ready to make sure that the country continues to have stable and reliable government in the interim," Altmaier said on ZDF television. "This is our trademark, like Made in Germany."
— With assistance by Zoe Schneeweiss
Before it's here, it's on the Bloomberg Terminal.
LEARN MORE