Ethics Panel to Investigate Harassment Claims Against Conyers
By and
Michigan Democrat said to settle case with former staffer

Conyers acknowledges settlement while denying accusation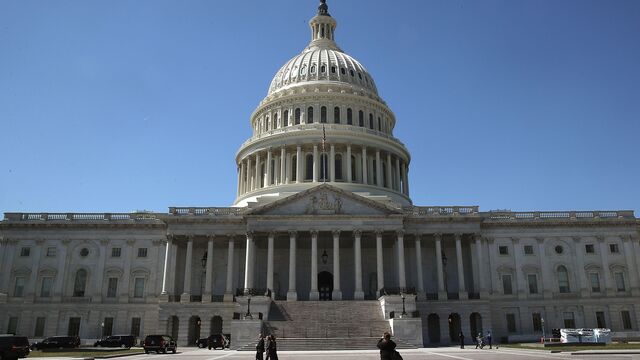 The House Ethics Committee is opening an investigation into allegations that Democratic Representative John Conyers sexually harassed some members of his staff.
Conyers, the longest-serving member of the U.S. House, acknowledged settling a sexual harassment complaint against him but denied the accusation in the case, saying his office acted to avoid "protracted litigation."
"The committee notes that the mere fact it is investigating these allegations, and publicly disclosing its review, does not itself indicate any violation has occurred or reflect any judgment on behalf of the committee," Republican Representative Susan Brooks, the panel's chairwoman, and Representative Ted Deutch, the ranking Democrat, said in a statement.
Conyers, 88, had been accused by a former House employee, who said she was fired after she rejected the Michigan Democrat's "sexual advances," according to BuzzFeed News, which cited documents and four affidavits from former members of his staff. The complaint, filed in 2014, resulted in a settlement of $27,000 and a confidentiality agreement that kept the matter from becoming public, according to BuzzFeed.
"In this case, I expressly and vehemently denied the allegations made against me, and continue to do so," Conyers said in a statement Tuesday. "My office resolved the allegations -- with an express denial of liability -- in order to save all involved from the rigors of protracted litigation."
Ethics Investigation
In a joint statement, Brooks and Deutsch wrote that the committee is looking into whether Conyers "may have engaged in sexual harassment of members of his staff, discriminated against certain staff on the basis of age, and used official resources for impermissible personal purposes."
Among the documents reported by BuzzFeed were affidavits from two staff members alleging that Conyers used congressional resources to transport women who staffers believed the congressman was having a relationship with.
The BuzzFeed report prompted House Speaker Paul Ryan of Wisconsin to re-emphasize that the chamber is reviewing how it handles sexual harassment and discrimination complaints. Without naming Conyers, Ryan said the report of harassment in Conyers's office was "extremely troubling."
House Minority Leader Nancy Pelosi of California said in a statement, "Any credible allegation of sexual harassment must be investigated by the Ethics Committee," also without mentioning Conyers by name. She said Congress must act to "advance equity in all workplaces in America."
Conyers is the ranking Democrat on the Judiciary Committee. Two of his Democratic colleagues on the panel, who would be in line to replace him if he steps down, also urged an investigation by the House Ethics Committee.
'Deeply Troubling'
California Representative Zoe Lofgren said an ethics probe is needed for "promptly assessing the validity of the news account." She said the behavior reported in the BuzzFeed article "cannot be tolerated in the House of Representatives or anywhere else."
Representative Jerrold Nadler of New York, who is second to Conyers in seniority on Judiciary, called the allegations "extremely serious and deeply troubling" and echoed Ryan's call to change the way the House handles such matters.
Accounts of sexual harassment and assault by powerful men are causing upheaval in politics, business and the media. A wave of accusations, and swift demands for consequences, followed the downfall of one of the most powerful men in Hollywood, Harvey Weinstein, after the New York Times last month disclosed multiple allegations of misconduct against him that spanned decades.
Moore, Franken
The situation is forcing both political parties to grapple with how to calibrate their responses to such allegations. In Alabama, multiple women have accused Republican Senate candidate Roy Moore of pursuing them when they were teenagers and he was in his 30s. Moore denied any wrongdoing, but GOP leaders in the Senate have urged him to withdraw from the race and threatened to seek his expulsion if he wins.
President Donald Trump effectively backed Moore on Tuesday despite the accusations against him, telling reporters, "He totally denies it. We don't need a liberal person in there, a Democrat."
Democratic Senator Al Franken of Minnesota apologized and called for an ethics investigation into his own conduct after a radio news anchor said that he forcefully kissed and groped her while she was asleep as the two of them were traveling on a military-sponsored entertainment tour in 2006. A second woman has come forward to say Franken groped her buttocks while the two took a picture at the Minnesota State Fair in 2010 in his home state. Franken has apologized and said he endorsed an ethics investigation of his conduct.
Conyers said in his statement that he would cooperate with any investigation.
"It is important to recognize that the mere making of an allegation does not mean it is true. The process must be fair to both the employee and the accused," he said, adding, "There are statutory requirements of confidentiality that apply to both the employee and me regarding this matter."
Ryan said he had already requested a full review of harassment policies from the Committee on House Administration last month, leading to new mandatory training for members and staff.
"Additional reforms to the system are under consideration as the committee continues its review," Ryan said. "People who work in the House deserve and are entitled to a workplace without harassment or discrimination."
BuzzFeed said pro-Trump activist Mike Cernovich, who has promoted false conspiracy theories, originally provided the documents in the Conyers case and that the media organization independently confirmed their authenticity.
— With assistance by Arit John
Before it's here, it's on the Bloomberg Terminal.
LEARN MORE