Mugabe Era Draws to a Close in Zimbabwe as Impeachment Looms
By , , and
Lawmakers prepare to pass impeachment motion in parliament

Ruling party leader Emmerson Mnangagwa urges Mugabe to resign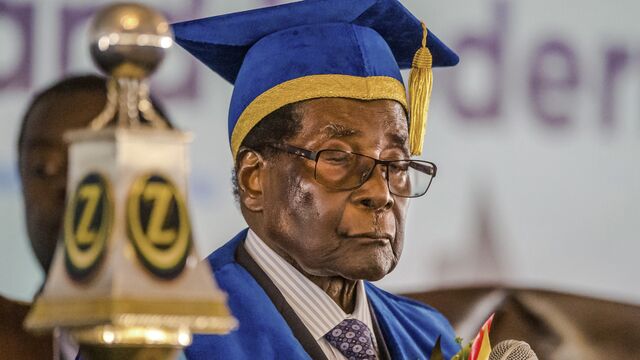 Zimbabwean President Robert Mugabe is facing the last days of his 37 years in power as lawmakers started proceedings to impeach him.
The ruling Zimbabwe African National Union-Patriotic Front says it will work with the opposition to ensure it has the votes in parliament to oust Mugabe, 93, after he missed Monday's ruling-party deadline to resign. Lawmakers are expected to approve an impeachment motion on Tuesday and then appoint a nine-member committee to determine whether he violated the constitution. If it finds he did, a two-thirds majority will be needed to dismiss him.
The motion, read out at a joint sitting of the House of Assembly and the Senate Tuesday, accuses Mugabe of serious misconduct, failing to obey the constitution and being unable to fulfill his presidential functions because of physical and mental incapacity. It also alleged that the president has allowed his wife Grace to make public statements about government business and appointments and failed to take action against corruption.
Mugabe was widely expected to use a televised address on Sunday to announce his retirement so that Emmerson Mnangagwa, whom he fired as vice president this month, could take over. Instead, he delivered a rambling speech and pledged to preside over a December congress of the governing party that had dumped him as leader earlier in the day. Three senior party officials who spoke on condition of anonymity said Mugabe deviated from an agreed-upon text.
Power Struggle
The moves against Mugabe are the climax of a power struggle in the ruling party between a military-aligned faction that's coalesced around Mnangagwa, 75, and another known as the Generation-40, which wants the president's wife, Grace Mugabe, 52, to succeed him. Mnangagwa, who's one of the pillars of the security establishment that has helped keep Mugabe in power since white-minority rule ended in 1980, emerged as the victor, with the party expelling Grace and her allies.
The political crisis comes as the economy is in free-fall, with more than nine out of 10 working-age people out of a job, public infrastructure crumbling and about 3 million Zimbabweans in exile.
See key images from Mugabe's 37 years in power
"This is the end game," said Eldred Masunugure, a professor of political science at the University of Zimbabwe. "He has exhausted all his usable cards. All the pillars of power have crumbled."
'Impeachment Party'
Just three of the almost 40 members of his cabinet showed up for a meeting Mugabe called on Wednesday. Thousands of people gathered in Unity Square in central Harare, the capital, to celebrate in what they dubbed an "impeachment party."
Mugabe has been in contact with Mnangagwa, who Zanu-PF has named as the party's new leader, armed forces commander Constantino Chiwenga, who led the military action dubbed Operation Restore Legacy, told reporters on Monday.
Mnangagwa, who said he fled Zimbabwe after his dismissal because of threats to him and his family, plans to return "as soon as the right conditions for security and stability prevail," he said Tuesday in a statement. He confirmed Mugabe had contacted him and urged the president to resign "so the country can move forward and preserve his legacy."
Read more on how Mugabe lost power in Zimbabwe
Zanu-PF held a caucus meeting in Harare Monday and all 230 of its lawmakers who attended favored firing Mugabe, Lovemore Matuke, the party's chief whip in the House of Assembly, told reporters.
Opposition Support
The Movement for Democratic Change, the main opposition, will support the impeachment proposal, Douglas Mwonzora, the party's secretary for legal affairs, said by phone on Monday. "They are certain conditions which we have discussed," he said, while refusing to disclose what they were.
House of Assembly speaker Jacob Mudenda announced that the body has received that motion to remove the Mugabe which he called "unprecedented in the history of Zimbabwe."
The impeachment process can probably be concluded within three to four days, according to John Makamure, executive director of the Southern African Parliamentary Support Trust.
Zimbabwe's main stock index has fallen 35 percent and seen almost $5.9 billion wiped off its market capitalization since the military seized power on Nov. 15. The drop is a sign of confidence returning to the southern African nation's financial system, according to Exotix Capital. That's because investors were previously piling into equities to hedge against inflation driven by the government's printing of money to combat a cash shortage.
A group of regional leaders including South African President Jacob Zuma is scheduled to discuss the Zimbabwe crisis at a meeting Tuesday in the Angolan capital, Luanda.
"We are saying Mugabe go, go now," Chris Mutsvangwa, the head of the Zimbabwe War Veterans Association, which has been at the forefront of the campaign to remove Mugabe, told reporters in Harare on Monday. "If he can't, we will bring the people of Zimbabwe into the streets."
— With assistance by Michael Cohen, and Paul Wallace
Before it's here, it's on the Bloomberg Terminal.
LEARN MORE