Germany Heaps Pressure on SPD to Bow to Call for Merkel Pact
By , , and
'Grand coalition' seen as best option to avoid new election

Risks for Germany's top parties in vote could outweigh rewards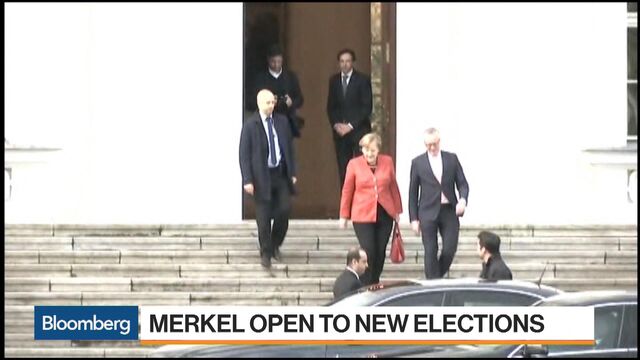 Pressure is mounting on Germany's Social Democrats to join Chancellor Angela Merkel in a revived alliance and end the impasse threatening political stability in Europe's largest economy.
While Merkel has publicly stated she's open to another election, her backers are betting that the SPD will abandon its aversion to a rerun of the "grand coalition," according to people familiar with discussions in Berlin. That alliance of Germany's two biggest parties underpinned two of Merkel's three terms, including the last four years.
"The SPD is wrestling with itself, and it would be better not to interfere with clever advice from the sidelines," Peter Altmaier, Merkel's chief of staff, told broadcaster N24 on Wednesday. "People want an effective government in place, and that is the task we are setting ourselves. We would like everyone to see it the same way."
After talks with the Greens and Free Democrats collapsed on Sunday, another grand coalition would require overcoming resistance by SPD leaders as well as rank and file after the party emerged battered from previous pacts. The appeal for a change of course focuses on the need for German stability at a critical time for the country and the European Union amid nationalist pressures and challenges posed by Brexit. For the time being at least, SPD officials aren't being swayed.
"We made a firm decision on Monday that we will not shy away from new elections," SPD deputy leader Thorsten Schaefer-Guembel said in an interview with public broadcaster ZDF on Wednesday. "Given what has happened, the people must have another chance to have their say. We currently see no basis for a grand coalition."
It's very important to avoid allowing the anti-immigration Alternative for Germany from becoming the main opposition group in parliament, Schaefer-Guembel added, reiterating the party line on why it wants to stay out of government.

The main argument for an SPD about-face is that a grand coalition would be the lesser of two evils. Refusing a role in government and holding out for new elections could lead to even weaker results after the Social Democrats slumped to their worst showing since World War II in the September ballot. The next day, leader Martin Schulz said: "I will never join a government with Angela Merkel."
Current circumstances could change that. Merkel told ZDF television on Monday that she's hoping the SPD "will reflect very intensely about whether they should step up and take responsibility."
For both the SPD and Merkel's Christian Democrat-led bloc, there may be more risk than reward in returning to the polls. Their combined support declined to 51 percent from the poor September results of 53.4 percent, according to an INSA/YouGov poll conducted Monday.
Read more: How Merkel and Germany Got in a Political Pickle
"A grand coalition would mean continuity and stability in Germany and would therefore be desirable," said Holger Schmieding, chief economist at Berenberg. "But the Social Democrats would demand a high price for such an alliance, and that wouldn't necessarily be good for the German economy."
The push for a grand coalition appears to have an important ally in President Frank-Walter Steinmeier, a former Social Democratic challenger for the chancellery who became Germany's non-partisan head of state in March. The former foreign minister has been thrust into a key role in forming a government and on Monday urged all political parties to live up to their responsibilities. 
"We need the SPD to take a position," Claudia Roth, vice president of the German Bundestag and a Green party negotiator in the failed four-way coalition talks, told Bayerischer Rundfunk radio on Wednesday. "It's now about dealing responsibly with the voting results."
Unwanted Election
Steinmeier's call to civic duty includes his former SPD colleagues, most notably Schulz, Merkel's chief rival for chancellorship in the September vote. While he has persistently reiterated his aversion to renewing an alliance with Merkel's conservative bloc, Schulz's backing in the SPD is tenuous after running a flat campaign against Merkel.
The German president started talks with Merkel on Monday and met with the Greens and the FDP on Tuesday. The Free Democrats won't make any effort to revive negotiations with Merkel, an official briefed on the talks said after FDP head Christian Lindner met the president.
Lindner has said it's up to the SPD to talk to Merkel about getting back together. The president will see Horst Seehofer, leader of the Christian Social Union, Merkel's Bavarian sister party later on Wednesday, before consulting with Schulz on Thursday, according to a presidential spokeswoman.
Schulz has staked his leadership on taking the SPD into opposition. While he has the support of the left wing of the party, including parliamentary caucus leader Andrea Nahles, he is under pressure from some in the conservative faction to reconsider.
While 78 percent of CDU-CSU supporters want Merkel to run in case the president calls an election, only 43 percent of SPD backers want to see Schulz as her challenger again, according to INSA polling for Bild newspaper.
Before it's here, it's on the Bloomberg Terminal.
LEARN MORE