May Offers Concessions to Keep Flagship Brexit Bill on Course
By
Ministers promise new proposals on human rights rules

Rebels warn government plans risk damaging Tory reputation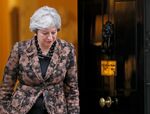 U.K. Prime Minister Theresa May's flagship piece of Brexit legislation continued its journey through Parliament unamended after the government offered concessions to Conservative rebels over human rights.
The Brexit repeal bill empowers ministers to allow legal continuity as Britain departs the bloc. Tuesday saw the third of eight days of line-by-line scrutiny in the House of Commons. The most contentious issues have been left for the final days, which haven't yet been scheduled.

Much debate focused around a clause that repealed the EU's Charter of Fundamental Rights, something opposed by the Labour Party and some Tories. Former Chancellor of the Exchequer Ken Clarke ridiculed the idea. "Why is the government going to such lengths to get rid of it as the one specific change in this bill?" he asked. "Presumably it's because it's got the words 'European' and 'rights' in it."
Former Attorney General Dominic Grieve, who has been leading the Conservative efforts to change the bill, had tabled six amendments, but withdrew them after ministers promised him they would come forward with new proposals to address his concerns, including on the way that EU legal principles will continue to apply in British courts after Brexit.
Grieve welcomed the government's concessions, but he warned that failing to take human rights laws seriously could see the Conservative Party's reputation "fray at the edges."
Before it's here, it's on the Bloomberg Terminal.
LEARN MORE