EU Agency Pushes to Keep Staff as It Moves from London to Amsterdam
By
Uprooted by Brexit, drugs regulator will move in March 2019

Dutch capital promises new 19-floor headquarters near airport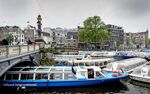 Follow @Brexit for all the latest news, and sign up to our daily Brexit Bulletin newsletter.
The European Medicines Agency's almost 900 employees shouldn't be too disoriented when they move to Amsterdam from London: most people speak English and drink beer. And it rains a lot.
London's Brexit loss turned into Amsterdam's gain late Monday when the European Union picked the Dutch capital over 18 other contenders as the medicines regulator's new home. It was the EMA staff's top choice and the option viewed as least likely to disrupt operations.
"Amsterdam ticks many of our boxes," the EMA's executive director, Guido Rasi, said Tuesday in a telephone call with reporters. "I am very grateful that the member states took into account our requirements for business continuity and gave priority to the protection of public and animal health."
The looming move has raised concerns about disruption to the work carried out by the EMA, which is Europe's equivalent to the U.S. Food and Drug Administration and oversees drugs for about 500 million people. Amsterdam lured the regulator by promising to build a tailor-made new office in the Zuidas business district, home to companies including paint maker Akzo Nobel NV and bank ABN Amro Group NV and a short distance from two academic hospitals.
The EMA must move as the U.K. prepares to leave the EU in March 2019. Monday's vote ended months of fierce competition between cities from Barcelona to Bucharest for the economic benefits that accompany the influential drugs regulator.
Monday to Friday
"For Amsterdam it's a windfall beyond just the regulatory jobs," said Chris Stirling, U.K. auditing firm KPMG LLP's global chair for life sciences. "We know that our clients consider being close to the EMA as an important consideration in location strategy, so the EMA location should attract private sector investment as a result."
The EMA attracts some 36,000 annual visits from experts each year, boosting hotels, restaurants and other services. Austrian Chancellor Christian Kern earlier this year calculated that the victor could enjoy a 1 billion-euro ($1.2 billion) lift. Once the EMA leaves the U.K., there's concern some international drugmakers may follow.
Amsterdam's deputy mayor said the city is attuned to the challenge faced by an agency that must stay the course through an unprecedented uprooting.
"The most important thing EMA needs is that, in a manner of speaking, they can close the door on a Friday afternoon and can continue from here on Monday morning," Kajsa Ollongren, the former deputy mayor in charge of economic affairs, said in an interview in July. "The work should continue undisturbed."
Seven Minutes
She also emphasized how close the new EMA office will be to the city's Schiphol airport. "Where can you find another European capital where from landing at the airport you get in a train and are at the office location within 7 minutes," she said. "It doesn't exist."
Beyond the medical agency, Amsterdam has been seeking to attract companies Brexit may push across the Channel, among them broadcasters and services firms, according to Ollongren. The politician has since moved on to become Minister of the Interior in Prime Minister Mark Rutte's third coalition government, sworn in last month.
The EMA's new headquarters have yet to be built. The plan is for a 19-floor office of about 43,000 square meters, according to David van Traa, director of the Zuidas business district. A temporary office should be available on Jan. 1, 2019, he said. A transition team will also help families prepare for their arrival to the Netherlands, advising on housing and schools, according to Van Traa.
Some key employees may still leave. A September survey showed almost a fifth of staff would likely quit, a substantial number even though Amsterdam was seen as the location least likely to prompt departures.
"The Amsterdam decision may well have been influenced by staff retention issues," KPMG's Stirling said. 
Tight Housing
While the Dutch bid documents hint that rental housing may be "reserved" for EMA employees, finding affordable places to live in Amsterdam may be an important issue for many employees, along with finding schools for their children to attend.
Housing options were "not really addressed in any of the bids," Noel Wathion, EMA's deputy executive director who's in charge of the relocation, said on the call. "We do not know the property markets in all the member states that provided bids provided to the agency."
The staff who opt to stay may find other reassuring similarities to London: the water is too cold to swim, Amsterdam's once mediocre food scene is improving and there's even a local form of fish and chips, called kibbeling -- a battered and fried North Sea fish served with a greasy sauce.
— With assistance by Ellen Proper, Rudy Ruitenberg, John Lauerman, and Joost Akkermans
Before it's here, it's on the Bloomberg Terminal.
LEARN MORE