In Mexico, Both Fiery Left and Old Guard Claim Revolution Mantle
By
Lopez Obrador, Pena Nieto hold dueling Revolution Day events

Former mayor rejects comparisons with both Maduro and Trump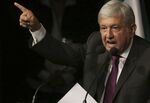 In Mexico, all politicians want to be seen as the true heir of the Revolution a century ago. It places them on the side of the masses, enabling them to identify with the hardships of daily life, such as poverty and insecurity, even when they're part of the status quo.
Thus it was that on Monday, President Enrique Pena Nieto, the epitome of the establishment, and firebrand leftist candidate Andres Manuel Lopez Obrador, who's seeking to replace him, found themselves holding dueling Revolution Day events on the capital's iconic Reforma Boulevard.
Lopez Obrador, a former mayor of Mexico City twice defeated in his quest for the nation's top office, spoke to a throng of 10,000 supporters at the National Auditorium, showered in chants of "presidente" and "long live Mexico." Hours later, Pena Nieto oversaw an elaborate celebration next door, where a symphony played and folkloric ballet dancers dressed as peasants pranced on a stage at equestrian riding grounds that are also home to his presidential guard.
Analysts debate to what extent Lopez Obrador would bring a political and economic revolution if elected next July. Amlo, as he is popularly known, promises to shake things up by rooting out corruption, reducing the size of government, eliminating wasteful spending and restoring security to a violence-torn nation. He also talks about re-evaluating some of the business-friendly overhauls pushed through by Pena Nieto.
Read more: Why Mexico Might Elect Its Own Populist to Face Trump: QuickTake
Pena Nieto's Institutional Revolutionary Party, or PRI -- dubbed the "perfect dictatorship" during seven decades of uninterrupted rule that ended in 2000 -- and the conservative National Action Party, known as the PAN, seek to paint Lopez Obrador as a dangerous fanatic who will take Mexico down the socialist road of Venezuela. Others have compared him to Donald Trump, characterizing him as a belligerent and impetuous nationalist.
Lopez Obrador sought to quell the unfavorable comparisons from both sides on Monday saying "we're not inspired by any foreign government, not Maduro, not Donald Trump, to make it clear. What inspires us are the fathers of our nation," invoking revolution hero Francisco Madero, whose call to arms helped overthrow dictator Porfirio Diaz in 1910.
The candidate's chances could be helped this time around by Pena Nieto's low popularity, which touched record depths for a Mexican president amid corruption scandals focused on governors in his party and a controversial conflict-of-interests probe of the president's inner circle, which exonerated them. While the PRI has yet to pick its candidate, Lopez Obrador is likely to run against public dissatisfaction with the current administration, said Jorge Castaneda, a former Mexican foreign minister under the PAN.
For now, investors are more focused on the Pena Nieto administration's efforts to renegotiate the North American Free Trade Agreement with the U.S. than on the election seven months away. The peso rallied on Tuesday on signs of progress on lower-level Nafta issues, even as the sides remain far from a deal on the most contentious points.
Before it's here, it's on the Bloomberg Terminal.
LEARN MORE