Zombie Firms Roam Europe Because Banks Help Keep Them Undead
By
Study on ties between uncompetitive companies and weak banks

EU's bad loan pile is also a driver of low productivity growth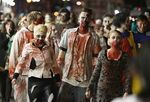 If some companies keep milling around even after they should have long been dead, it's because banks keep giving them fresh blood.
So-called zombie firms -- companies that would be out of business or painfully restructured in a competitive economy -- have become a key issue for policy makers grappling with sluggish productivity growth in developed economies. The fear is that those "zombies" are sucking up capital that could otherwise go to more productive firms.
A new study by the Organization for Economic Co-operation and Development helps explaining how banks favor the spread of zombie firms. It shows that weak companies tend to be connected to weak banks which prefer to roll over or restructure bad loans rather than declaring them delinquent and writing them off.

The OECD's research by Dan Andrews and Filippos Petroulakis lends new urgency to the European Central Bank's efforts to slash non-performing loans in the region. Supervisors have asked for detailed plans of how NPLs will be cut and are mulling requiring banks to set aside more capital for soured loans.
"In order to facilitate the unwinding of the zombie problem, it is essential that bank balance sheets are strong, underlining the need for fast recapitalizations after crises and other measures to reduce NPLs," write the authors. "The zombie firm problem in Europe may at least partly stem from bank forbearance."
Weak productivity matters in an ageing continent like Europe, where a shrinking working population is expected to support an ever increasing number of retirees. This can't happen unless technology and education make it possible to squeeze more and more output from labor and capital.
Read next: Zombie Banks Show How the Undead Kill Economic Growth
The OECD has been investigating the impact of living-dead companies for years. It argues that zombification leads to capital misallocation, as weak banks tend to steer less capital to healthier and more productive firms. This in turn leads to low productivity and returns, making it more difficult to get credit even for innovative companies.
Andrews and Petroulakis also say that, in addition to forcing banks to work down their NPLs and bolster capital, efficient laws on insolvency are needed. It is not a coincidence that Italy -- the European country with the largest NPL problem -- overhauled its bankruptcy rules last month to make them quicker and more efficient.

Italian banks are slashing their exposure to insolvent debtors, but have yet to take action on loans involving borrowers that are unlikely to meet their obligations. While domestic banks were provisioned for 62 percent of their bad loans, they were covered for losses on only 33 percent of unlikely-to-pay loans at the end of 2016, according to the Bank of Italy. 
— With assistance by Giovanni Salzano, and Luca Casiraghi
Before it's here, it's on the Bloomberg Terminal.
LEARN MORE