Your Evening Briefing
Here are today's top stories for Europe.
Bloomberg News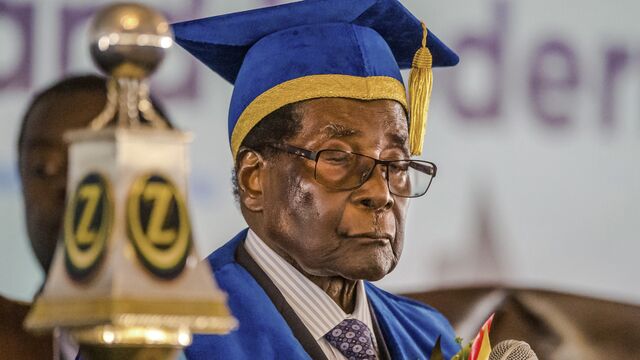 The evening briefing will soon be available in your inbox every day. Sign up here.
Robert Mugabe, who ruled Zimbabwe for nearly four decades, stepped down Tuesday as lawmakers prepared to impeach him. The 93-year-old president, the world's oldest leader, submitted a resignation letter to parliament days after the African National Union-Patriotic Front party fired him as its leader and ordered him to leave office. Zimbabweans took to the street in celebration, but questions remain about what's next for the economically stricken country. Here's what the fall of Mugabe could mean. — Siraj Datoo
Crypto hack. Even a $31 million hack couldn't keep bitcoin from soaring to a record height. The breach—announced by a company that that helps facilitate trades—sent the price of bitcoin down below $7,800 before it raced back above $8,300. The incident is just the latest in a long list of hacks that have dented confidence in cryptocurrencies and fueled debate over whether they're secure enough to enter the mainstream of finance. A major hedge fund manager predicted the price will hit $10,000 by the end of the year.
Still fighting. Angela Merkel is ready to face voters again. The German chancellor threw down a gauntlet, saying she would rather call another election than rule with a minority government. But Merkel's influence has been diminished. Europe's refugee crisis helped send her Christian Democratic-led group to a historic low in September elections. The leader of the Free Democrats, an old ally of Merkel's, was key to killing the coalition talks that collapsed. Meanwhile Wolfgang Schaeuble, former finance minister, called on parties to come together and form a government.
Just do it. Sometimes even Bella Hadid and Kendrick Lamar can't boost sales. Just ask Nike. The company put a huge amount of effort into rebooting a vintage sneaker, the Cortez, after consumers fell for Adidas in recent years. But despite the huge push, customers just didn't seem to care. But the company isn't giving up just yet. Nike announced that it's working on a new version of the Cortez with Lamar.
Brexit spoils. France and the Netherlands are the first winners in the battle for Brexit spoils, with two EU agencies choosing to relocate there from London. The EU's banking authority will move to Paris and its medicines regulator to Amsterdam. The decisions cap months of lobbying by 19 European cities, including Stockholm, Bucharest, Dublin and Frankfurt. Criteria included accessibility, availability of schools and health care for staff families, and an assurance of operational readiness when Brexit happens.
Supercar, super awkward. With 710 horsepower, a maximum speed of  212 miles per hour, and a price tag of $284,745, the McLaren 720S is a model of advanced engineering and design. So advanced it's clinical, the 720S requires explanation just to pull out of the parking lot. McLaren positions its newcomer as having "extreme performance DNA," and indeed, this is more rocket than car. But the awkwardness inside makes it difficult to love.
Compiled by Siraj Datoo and Leila Taha
Quotes from this Article
Before it's here, it's on the Bloomberg Terminal.
LEARN MORE