Disney Animation Legend Takes Leave Over Misconduct Allegations
By and
He apologizes in memo to workers for unwanted hugs, gestures

Was force behind studio hits like 'Toy Story' and 'Frozen'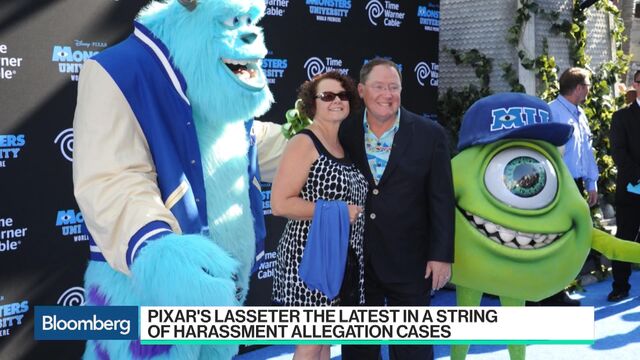 John Lasseter, creative head of Walt Disney Co.'s Pixar and animation studios, is taking a leave of absence after the Hollywood Reporter cited coworkers who accused him of unwanted touching and hugs.

Lasseter, 60, said he's taking a six-month sabbatical and apologized for "missteps" that made people feel uncomfortable. He directed early Pixar films like "Toy Story" and is an executive producer on films that have been a cornerstone of the company's strategy, generating $11.2 billion in global box-office sales.
The Hollywood Reporter broke the news of his plans earlier Tuesday, reporting instances of grabbing, kissing and making comments about physical attributes. Other women, who asked not to be identified out of concern that their careers would be affected, told the publication they struggled to keep his hands off their legs. 
Lasseter used a memo to employees to apologize for his behavior.
"I especially want to apologize to anyone who has ever been on the receiving end of an unwanted hug or any other gesture they felt crossed the line in any way, shape, or form," Lasseter wrote. "No matter how benign my intent, everyone has the right to set their own boundaries and have them respected."
Disney said in a statement it's committed to maintaining an environment in which all employees are respected and empowered to do their best work. "We appreciate John's candor and sincere apology and fully support his sabbatical," the company said.
"Toy Story," released in 1995, was the world's first feature-length film to use computer generated animation. Lasseter, Steve Jobs and Pixar co-founder Ed Catmull are considered pioneers on the use of the technology in animation.
Animation Duo
After Disney acquired Pixar for more than $7 billion in 2006, Chief Executive Robert Iger put Lasseter and Catmull in charge of both Pixar and the company's flagship animation studio. Iger has often credited the pair with reviving that business, producing such hits as 2013's "Frozen," a major success in theaters and a huge boost to Disney's consumer products business, as were other Pixar hits such as "Cars" and "Finding Dory."
Disney were unchanged at $103 at 9:43 a.m. in New York. The shares have been little changed this year.
"Disney Animation is the lifeblood of Disney and John Lasseter was personally focused on by management and investors," said Rich Greenfield, analyst at BTIG LLC. "Leadership is important, this has to worry investors."
Pixar's latest film, "Coco," hits theaters Wednesday. The tale of a Mexican boy who longs to become a great guitarist is projected to take in $60 million in its opening weekend and $270 million through its domestic run, according to Box Office Pro. The film, which is scoring strong reviews, was directed by Lee Unkrich, a Pixar veteran whose prior hits include "Toy Story 3." Lasseter is an executive producer.
Pixar 'Braintrust'
While Disney hasn't said if someone is stepping in to fill Lasseter's role as chief creative officer, even on a temporary basis, Pixar has long relied on a group of senior filmmakers it calls the "Braintrust." They have included Pete Docter, director of "Inside Out" and "Monsters, Inc.," and Andrew Stanton, co-director of "Finding Nemo." Catmull remains president of Pixar and Disney's animation studios.
In recent years, other studios have increased their animated film output. Comcast Corp.'s Illumination Entertainment has generated higher average film grosses than Pixar with lower-cost hits such as "Despicable Me" and "The Secret Life of Pets."
Lasseter was also a critical presence in Disney's theme-parks division, serving as principal creative adviser to its Imagineering design unit. He's supervised projects such as the 2012 Cars Land addition to Disney's California Adventure park in Anaheim, California. The company also has Toy Story Lands being built in Orlando, Florida, and Shanghai.
Before it's here, it's on the Bloomberg Terminal.
LEARN MORE