Dan Loeb Lectured Black City Official on Black Students' Plight
By and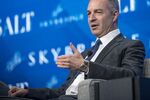 Dan Loeb, the hedge fund manager and an advocate for charter schools, lectured New York City Deputy Mayor Richard Buery, one of the city's highest-ranking black officials, for being "smug and satisfied" and failing to help "poor black kids" in a series of emails published today by Politico.
The email exchange took place from early 2014 to this summer, according to Politico, which obtained the correspondence through a Freedom of Information Act request. The mayor's office and a representative for Loeb confirmed the emails were real.
Buery, the deputy mayor for strategic policy initiatives, grew up in East New York and earns $225,000 a year working for the city, according to Politico. The emails show an exasperated Buery, who oversaw the city's roll-out of a free pre-kindergarten program that serves 70,000 preschoolers, dealing with Loeb questioning his concern or understanding of the plight of poor minority kids: "Do you really not see the hubris of your lecturing me about the plight of black children and what they need?"
"I have great respect for the Deputy Mayor, and I know we are aligned in our pursuit of better educational outcomes for New York City's children," Loeb said in a statement. "These views are not about Deputy Mayor Buery specifically but rather about the broad institutional failing by our government to confront a broken educational system with the urgency and focus it deserves."
Earlier this year, Loeb came under fire for accusing the state senate's Democratic leader, who is black, of doing "more damage to people of color than anyone who has ever donned a hood."
Before it's here, it's on the Bloomberg Terminal.
LEARN MORE