BOE Officials Say Brexit Uncertainty Key to Weak U.K. Investment
By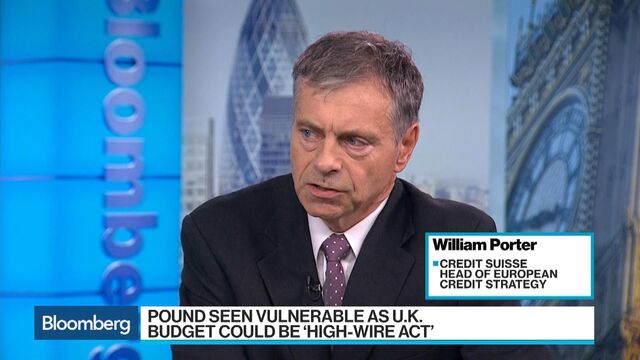 The cloud of Brexit is undermining otherwise positive conditions for business investment in the U.K., according to Bank of England policy maker Michael Saunders.
"Many of the background conditions for investment at the moment are tremendously positive. The rate of return on capital in the U.K. is high, the cost of capital is relatively low, capacity use is fairly high. One thing that I hear from businesses, and you see this in surveys for example by Deloitte and the CBI, is uncertainty over Brexit is probably holding back investment from responding fully to those conditions."
Responding to Parliament's Treasury Committee in London on Tuesday, Saunders said that policy makers will have to "wait and see" how the U.K.'s negotiations and business confidence develop.
His comments were echoed by fellow Monetary Policy Committee member Ian McCafferty, who said that historically the U.K. could be expected to see far higher investment given the high levels of employment, global conditions, low cost of capital and outlook for demand.
"In previous cycles we've seen investment growing at double digits year-on-year for this time of the cycle. This time we are seeing business investment grow by 4-5 percent per annum. There is clearly an impact from that elevated level of uncertainty."
For BOE Deputy Governor Jon Cunliffe, the unpredictable future is preventing firms from making investments with reasonable returns when the costs of borrowing are low.
"You might think, well the interest rate is half a percent so I look at an investment that gives me 7 or 8 percent rather than still wanting 12 percent return as I did before. That doesn't seem to have happened. I'm more uncertain now that the future demand will be there and that's holding me back."
Before it's here, it's on the Bloomberg Terminal.
LEARN MORE