Zimbabwe's Mugabe Faces Impeachment After He Balks at Retiring
By , , and
War veterans plan protests unless president leaves office

Ruling party says Mnangagwa to take over as interim leader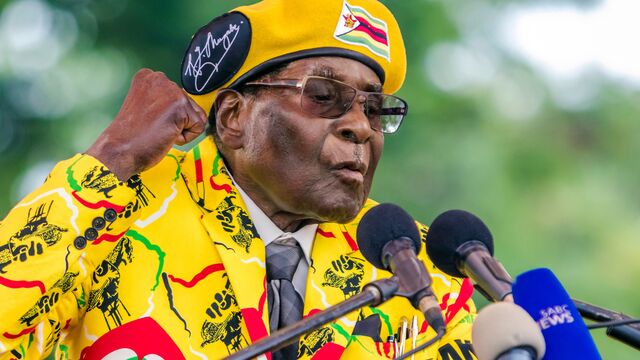 Zimbabwean lawmakers are set to begin impeachment proceedings against President Robert Mugabe and vote him out of power within two days after he missed a ruling-party deadline to end his 37-year rule.
"We will move a motion tomorrow, set up the committee tomorrow and on Wednesday it reports back and we vote him out," the Zimbabwe African National Union-Patriotic Front deputy secretary for legal affairs, Paul Mangwana, told reporters Monday at party headquarters in Harare, the capital.
Mugabe was widely expected to use a televised address on Sunday to announce his retirement so that Emmerson Mnangagwa, whom he fired as vice president this month, could take over. Instead, he delivered a rambling and largely incoherent speech, in which he pledged to preside over a December congress of the governing party, which had dumped him as leader earlier in the day.
Three senior party officials who spoke on condition of anonymity said Mugabe deviated from an agreed-upon text and he'll now be forced from office by Zanu-PF, which had given him a deadline of midday Monday to quit. All the party's lawmakers were summoned to a special caucus meeting at its headquarters on Monday, according to two legislators who spoke on the condition of anonymity.
Letter to Mugabe
Zanu-PF wrote a letter to Mugabe, 93, telling him to step down after his failure to do so on Sunday, according to a senior party official who asked not to be named.
Mugabe has been in contact with Mnangagwa, who will be returning to Zimbabwe soon, armed forces commander Constantino Chiwenga, told reporters on Monday. Mugabe "has started processes towards a definitive solution and roadmap for the future of the country," he said.
Read more on how Mugabe lost power in Zimbabwe
The ruling party fired Mugabe as its leader four days after the military placed him under house arrest and detained several of his closest allies -- a move triggered by his dismissal of Mnangagwa, 75. The former vice president will be reinstated and be named as interim leader and Zanu-PF's presidential candidate in elections next year.
Tens of thousands of people took to the streets of Harare and Bulawayo, the second-largest city, on Saturday to celebrate Mugabe's imminent ouster.
Stocks Fall
Zimbabwe's main stock index fell 10 percent on Monday to an 8-week low, extending its loss since the military seized power to 27 percent. The drop is a sign of confidence returning to the southern African nation's financial system, according to Exotix Capital, since investors were previously piling into equities to hedge against inflation driven by the government's printing of money to combat a cash shortage.
The moves against Mugabe are the culmination of a battle for control of the ruling party between a military-aligned faction that's coalesced around Mnangagwa and another known as the Generation-40, which wants the president's wife Grace Mugabe to succeed him.
Mnangagwa, who's one of the pillars of the security establishment that has helped keep Mugabe in power since white minority rule ended in 1980, emerged as the victor, with the party expelling Grace and her allies.
The political crisis comes as the economy is in free-fall. An estimated 95 percent of the workforce is unemployed, public infrastructure is crumbling and about 3 million Zimbabweans have gone into exile.
"We are saying Mugabe go, go now," Chris Mutsvangwa, the head of the Zimbabwe War Veterans Association, which has been at the forefront of the campaign to remove Mugabe, told reporters in Harare on Monday. "If he can't, we will bring the people of Zimbabwe into the streets."
Dignified Exit
Morgan Tsvangirai, leader of the main opposition Movement for Democratic Change, said Mugabe's refusal to opt for a dignified exit had dimmed Zimbabweans' hopes of a speedy resolution to the political crisis, and called for urgent steps to be taken to restore political stability.
"We reiterate our call for an internationally supervised process for the forthcoming elections, starting with the current voter registration exercise and ultimately the election itself," he said in an emailed statement.
Eldred Masunugure, a professor of political science at the University of Zimbabwe, said it's only a matter of time before Mugabe goes.
"I don't think this will drag on," he said by phone. "This is the end game. He doesn't have any leverage, he has exhausted all his usable cards. All the pillars of power have crumbled. If he has political prudence he will have to do the right thing, which is to go."
— With assistance by Michael Cohen
Before it's here, it's on the Bloomberg Terminal.
LEARN MORE