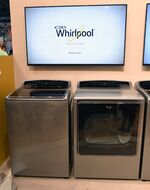 The buying and selling of technology companies has mostly been a deadly dull business this year. Zzzzz. But one corner of technology dealmaking has been busier than a rush-hour freeway. 
Companies outside the technology sector are gorging on tech companies. Non-tech acquirers bought $16.1 billion worth of technology companies in the third quarter of this year, according to PwC. That was biggest quarter of tech dealmaking by traditional companies in the three years that comparable data are available.
The technology acquisitions by old-school companies included Office Depot Inc.'s $940 million purchase of CompuCom Systems, which sells and manages technology services for companies, and Wal-Mart Stores Inc.'s decision to drop about $500 million combined to buy four e-commerce companies and a startup that specializes in delivering purchases made online. Appliance company Whirlpool Corp. also bought a personalized recipe company, Yummly.com; and just last week, Williams-Sonoma Inc. announced it was buying a 3D imaging startup. 

It's not entirely new for non-technology companies to shop for digital takeovers, but this recent sustained trend is hard to ignore.
The motivations for acquisitions still include the desire to consolidate an industry to slash costs, or to have more pricing power over customers or suppliers. But it's also true that all companies are understandably obsessed with keeping up with the times, or at least convincing their investors that they're keeping up with the times. So they are breaking out their checkbooks for technology takeovers that they hope will speed their digital revolution. 
Yes, everyone is a technology company now, or wants to be. It's also true that it can be hard to predict, especially by companies from outside the tech industry, when it's smart to make a technology acquisition. 
Anecdotally, nondigital technology companies haven't been the smartest technology dealmakers. Walt Disney Co., for example, has struggled with Maker Studios, the online video company it bought for nearly $700 million in 2014. The parent of Saks Fifth Avenue was forced to write down the value of its acquisition of e-commerce company Gilt Groupe. And General Electric Co. has dialed back its digital ambitions because of a cash crunch and earnings disappointments at other parts of the company.
Of course, even technology companies aren't necessarily good at assessing the quality of technology companies they're trying to buy. And for sure, the investment bankers who officiate corporate mergers are glad for the flurry of tech deals by nondigital companies. Otherwise, technology acquisitions are a wasteland.
Through Friday, the dollar value of purchased U.S. technology companies stood at about $72.5 billion -- about a third of the value of tech acquisitions in 2016. (There's a late entrant in the 2017 takeover game, but computer-chip maker Broadcom's $100 billion-plus bid for Qualcomm may not happen this year, or ever.) 
In all, global mergers and acquisitions have been relatively on par with the dollar value of corporate takeovers in 2016, which makes the falloff in tech dealmaking all the more surprising. 

Traditional companies are in a particularly tough bind when they hunt for technology deals. They have to thread the needle between buying a company with proven technology but not so proven that it's out of the price range of a company with a non-tech valuation multiple. And the most alluring assets are most likely too rich for the likes of Monsanto or General Motors.
The rub for traditional companies is it's dangerous to do bad digital deals to try to future-proof themselves, but it's also dangerous not to do anything to stay relevant. So expect the old-school companies to keep shopping in the technology aisle. 
Before it's here, it's on the Bloomberg Terminal.
LEARN MORE