Turkish Bonds Tumble as Central Bank Fails to Shore Up Lira
By
Lira weakens as central bank opens new forward auctions

Yield on 10-year lira debt surges to record 13.01 percent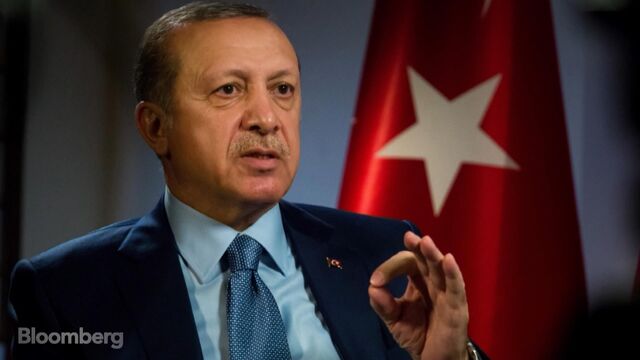 The Turkish central bank's latest measures are failing to bolster confidence.
Bonds slid, driving the yield on the benchmark 10-year debt to a record high on Monday, even after the central bank said over the weekend that it would start auctioning as much as $3 billion in instruments through year-end to help corporate borrowers manage their foreign-exchange positions. The currency weakened more than 1 percent against the dollar and stocks fell.
"We have our doubts whether the overall auction amount, announced for the rest of this year, will suffice to ease the pressures," said Gokce Celik, an economist at QNB Finansbank in Istanbul. Still, the central bank's operations "might help alleviate the volatility in the spot market by preventing corporates' rush to buy foreign exchange."

The declines on Monday underline how politics are acting as a driver for markets. President Recep Tayyip Erdogan hit out at the central bank on Friday, saying it was on the "wrong path" in using high interest rates to tackle inflation. And in a new twist to the deteriorating relations with Europe and the U.S., Turkey withdrew troops from a NATO military exercise last week, citing drills in which Erdogan and Turkey's founder, Mustafa Kemal Ataturk, were depicted as enemies. NATO's secretary-general apologized to Erdogan for the incident.
Investor attention is also turning to a high-profile case in the U.S. that threatens to expose how powerful figures in Turkey may have helped undermine U.S. sanctions on Iran. Among those charged are Reza Zarrab, a Turkish-Iranian gold trader, a former Turkish economy minister and three executives from a state-run bank.
The case is a "conspiracy" against Turkey and a repeat of last year's coup attempt on July 15, government spokesman and Deputy Prime Minister Bekir Bozdag said in a televised statement following a cabinet meeting on Monday. Those who couldn't overthrow the government before are now "setting traps for a series of economic sanctions against Turkey," he said.
Locals Turn
The lira weakened 1.2 percent to 3.9231 per dollar as of 4:25 p.m. in Istanbul. It has fallen 10 percent against the dollar and 20 percent against the euro this year, both the most among major currencies worldwide.
The yield on the nation's 10-year bonds jumped as much as 46 basis points to 13.01 percent. The Borsa Istanbul 100 Index retreated as much as 2.2 percent led by Akbank TAS and Turkiye Garanti Bankasi AS, the nation's largest publicly traded lenders.
Dollar buying by Turkish residents may have been one of the reasons the central bank decided to step in, according to Nomura International Plc's Inan Demir. Resident investors bought more than $250 million worth of foreign exchange in the week ended Nov. 10, putting an end to a seven-week run of hard-currency sales that had offered the lira some support.
"The central bank has a tendency to react when locals buy foreign exchange while the lira is weakening," Demir said by email last week.
Turkish companies have a foreign-currency short position of more than $200 billion, and a surge in hard currency demand to meet upcoming obligations has the potential to compound the lira's depreciation. Adding to the pressures are deteriorating economic data including accelerating inflation, a widening current-account deficit and waning foreign demand for the nation's bonds, even as growth accelerates on the back of stimulus measures introduced after last year's coup attempt.
While Nomura took profit on its short lira position versus an equally-weighted basket of euros and dollars last week, in the longer term, the bank said it remains bearish. For that, it cited the central bank's "unwillingness to raise real rates sufficiently to contain domestic demand pressures on external balances and compensate for persistent political risks."
Before it's here, it's on the Bloomberg Terminal.
LEARN MORE