Trump Says U.S. Will Label North Korea a State Sponsor of Terror
By and
President says step 'should have happened a long time ago'

Treasury Department will announce further sanctions Tuesday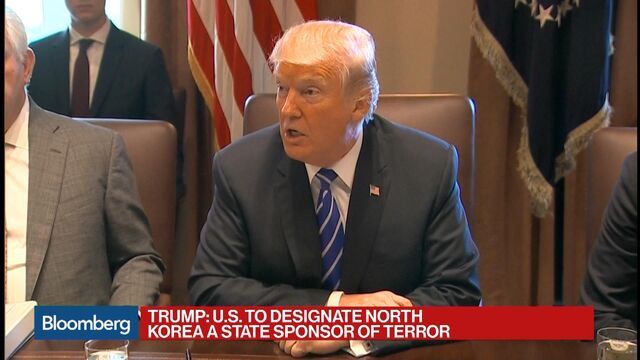 U.S. President Donald Trump said he is designating North Korea a state sponsor of terrorism, subjecting the regime to additional sanctions and reinforcing its status as an international pariah.
Speaking at the start of a cabinet meeting at the White House, Trump said the Treasury Department will announce additional measures Tuesday, describing the move against Kim Jong Un's regime as "a very large one."
The step at least symbolically ratchets up the roiling standoff between the U.S. and North Korea over Pyongyang's program to develop nuclear weapons and intercontinental ballistic missiles that could hit the U.S. mainland. Trump returned last week from a five-nation tour of Asia in which the confrontation with North Korea figured prominently and the U.S. president pressed countries in the region to intensify restrictions on the regime.
"Today, the United States is designating North Korea as a state sponsor of terrorism," Trump said Monday. "Should have happened a long time ago. Should have happened years ago. In addition to threatening the world with nuclear devastation, North Korea has repeatedly supported acts of international terrorism including assassinations on foreign soil."
The accusation about assassinations on foreign soil may be a reference to the February killing of the North Korean leader's half-brother, Kim Jong Nam, at the Kuala Lumpur airport. Kim Jong Nam, who had been living in exile, died after VX nerve agent was spread on his face and eyes.
Japanese Prime Minister Shinzo Abe welcomed Trump's declaration, telling parliament that North Korea may have more than 100 Rodong missiles capable of hitting Japan. Defense Minister Itsunori Onodera was quoted by Kyodo News as saying he couldn't rule out further provocations in light of Trump's move.
A spokesman for South Korea's military said the country was fully prepared for any provocations although North Korean forces have shown no unusual movements.
Read a QuickTake Q&A on what the U.S. and its allies can do about North Korea
Anthony Cordesman, a former director of intelligence assessment in the Office of the Secretary of Defense, said Trump's declaration would escalate the situation without doing anything to resolve it.
"It is unclear it will do anything to halt North Korea's missile and nuclear programs, but it does grab headlines, and give Kim Jong Un a reason to reply in kind," Cordesman wrote in commentary for the Center for Strategic and International Studies. 
Sending Signals


Secretary of State Rex Tillerson acknowledged that the signal the designation sends may be more important than its practical impact because "we already have North Korea so heavily sanctioned in so many ways."
"It just points out again what a rogue regime this is," Tillerson told reporters at the daily White House briefing. "The practical effects may be limited, but hopefully we are closing off a few loopholes with this."
North Korea becomes the fourth nation on the U.S. terrorist list, joining Iran, Sudan and Syria. Cuba had been on the list but was removed by President Barack Obama in 2015. North Korea previously had been designated a sponsor of terrorism but was removed in 2008 under Republican President George W. Bush in an effort to salvage a fragile nuclear deal.
That deal later collapsed, and in the years since, North Korea has made steady progress on developing a nuclear weapon and the ballistic-missile technology to hit the U.S. Stanford University physicist Siegfried Hecker estimates North Korea has enough material for as many as 25 nuclear weapons. However, many analysts doubt whether North Korea has yet developed the ballistic missile technology that would let a warhead survive reentry into the atmosphere.
The regime in Pyongyang had requested that the Bush administration remove it from the list as part of the 2008 process, a move that was "very politically symbolic to the North Koreans," said Brian Egan, a partner at Steptoe & Johnson LLP and a State Department legal adviser under Barack Obama.
"This will not significantly increase the sanctions that the United States has in place against North Korea," Egan said.
Watch This Next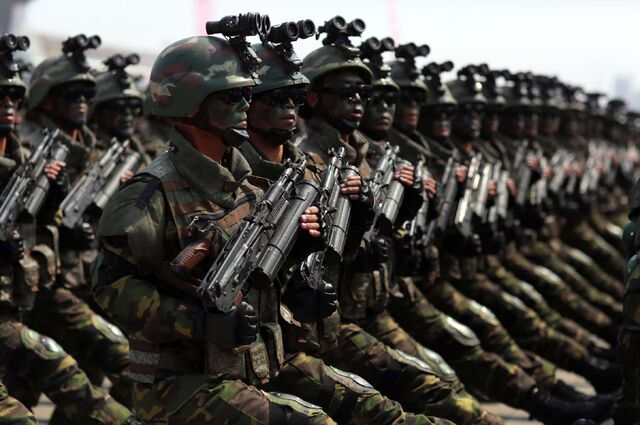 The terrorism designation allows the U.S. to step up sanctions on people and countries that engage in trade with North Korea, according to a State Department official, who spoke on condition of anonymity in advance of a formal announcement. It also bans defense exports and sales, boosts restrictions on exports of dual-use items and affects financial transactions.
'Peaceful Pressure' Campaign
The most significant legal change is that U.S. citizens will now be able to sue North Korea over terrorism allegations, according to Anthony Ruggiero, a senior fellow at the Washington-based Foundation for Defense of Democracies. Congress had passed legislation that set a deadline for the beginning of November for the administration to make a designation one way or the other.
The decision dovetails with the administration's "peaceful pressure" campaign to persuade other countries to cut off diplomatic and trade ties with North Korea as a way to strangle its economy and get it to abandon its nuclear weapons program.
"Now the Trump administration can go overseas and say to countries, 'Do you really want to be engaged in commercial or financial relations with North Korea, which is now a state sponsor of terrorism?"' Ruggiero said. "For a lot of people, this is long overdue."
— With assistance by Margaret Talev, David Tweed, Takashi Hirokawa, and Shinhye Kang
Before it's here, it's on the Bloomberg Terminal.
LEARN MORE