Trump Was 'Happy' to Help UCLA Players, Aide Says
By
Tweet saying should have left freshmen in prison 'rhetorical'

Trump had called father of basketball player 'ungrateful'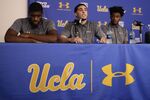 President Donald Trump's tweet saying he should have left three basketball players in a Chinese jail doesn't represent his actual view and was meant as a "rhetorical response" to comments from LaVar Ball, father of one of the formerly detained athletes, White House press secretary Sarah Huckabee Sanders said Monday.
UCLA freshmen players LiAngelo Ball, Cody Riley and Jalen Hill were detained in China on suspicion of shoplifting at a Louis Vuitton store in Hangzhou during a team visit to the country for a basketball game. Trump, who was traveling in Asia at the time, raised the case with Chinese president Xi Jinping, according to the White House.
Trump was "happy to intervene" and "wouldn't have taken the action that he did" if he truly felt that the athletes should have remained in prison, Sanders told reporters at the daily White House press briefing.
Her comments contrasted with tweets over the weekend from Trump, who appeared angered by an ESPN interview with LaVar Ball. The elder Ball downplayed Trump's role in securing the release.
"Who?" Ball said. "What was he over there for? Don't tell me nothing. Everybody wants to make it seem like he helped me out."
Trump tweeted that the father was "unaccepting of what I did for his son" and that he "should have left them in jail."
"Shoplifting is a very big deal in China, as it should be (5-10 years in jail), but not to father LaVar," Trump continued. "Should have gotten his son out during my next trip to China instead. China told them why they were released. Very ungrateful!"
Before it's here, it's on the Bloomberg Terminal.
LEARN MORE