Trump Campaign Stops Paying Donald Jr.'s Legal Bills
By
Advisers to president's son planning to set up defense fund

Russia probe is growing expensive for Trump and associates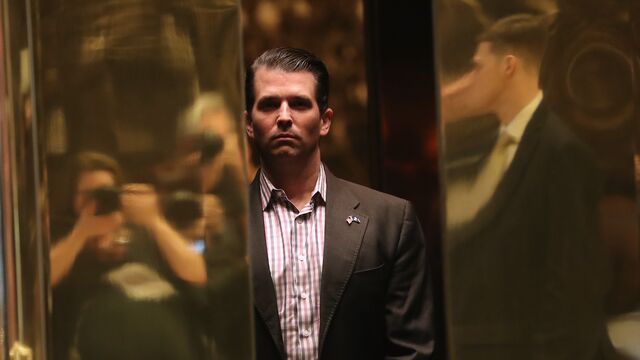 The Trump campaign has stopped paying legal bills for Donald Trump Jr. and is setting up a legal defense fund to cover the costs for him and other campaign staffers related to investigations into Russian election meddling, said a person familiar with the matter.
A fund for campaign staffers should be running in a few weeks, the person said, adding that the exact structure, how it would be administered and who would be eligible are still being finalized. It also hasn't been determined yet whether President Donald Trump or the Trump Organization could contribute to the fund.
The Trump campaign's legal bills have already topped more than $2 million this year, including payments related to the Russia investigations, as well as $287,924 for Trump Jr. Separately, in September, the Republican National Committee paid $166,527 to Alan Futerfas, who represents Trump Jr., according to the party's latest filing with the Federal Election Commission.
With the investigation likely to go well into 2018, those bills could continue to mount. The Trump campaign is limited in how much it can raise per person between now and 2020, while a legal defense fund would have no cap.
White House lawyer Ty Cobb said last week that the president would also assume responsibility for his own legal bills, which could exceed $1 million. Trump's legal costs had previously been covered by the RNC, which paid $131,250 to Trump's attorney Jay Sekulow and $100,000 to attorney John Dowd.
Excludes Manafort
The campaign fund would likely only be for people employed by the Trump campaign, the person said, although the details are still being negotiated. That arrangement could exclude some high-profile figures who were never paid, including former campaign chairman Paul Manafort, who was charged with money laundering, and former campaign foreign policy adviser George Papadopoulos, who pleaded guilty to lying to the FBI.
The Office of Government Ethics and a tax firm are helping vet the creation of a separate fund to help White House staff pay for their legal bills, which Trump may be able to contribute to. For White House staffers, the mounting legal bills have been putting some under a financial strain. One interview with a congressional committee or Mueller could exceed $30,000 in legal costs.
Among those who have been interviewed are former chief of staff Reince Priebus, former spokesman Sean Spicer, and National Security Council Chief of Staff Keith Kellogg, according to people familiar with the investigations. Mueller has also indicated he wants to speak with White House Counsel Don McGahn and communications director Hope Hicks, said another person close to the investigation.
"I don't think there's ever been a *pooled* legal defense fund for multiple appointees," Walter Shaub, the former director of the OGE, tweeted on Monday. "Ty Cobb should tell us how they address ethics issues."
The OGE issued rules in 1993 governing legal defense funds for government officials while they are in office. Those outside of government would be under no obligation to follow them since they're no longer government employees.
— With assistance by Bill Allison
Before it's here, it's on the Bloomberg Terminal.
LEARN MORE