Soros Says Hungarian Campaign Against Him Is Based on Lies
By
Hungary has asked spy agency to map Soros-linked NGO activity

Prime Minister Orban targeting Soros ahead of 2018 election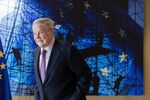 George Soros, the billionaire investor, condemned the political campaign waged against him in his native Hungary after the cabinet ordered spy agencies to investigate his philanthropic network.
Hungary's ''National Consultation on the Soros plan," a government mail-in survey on Soros's purported positions relating to immigration, contains "distortions and outright lies," a statement posted on Soros's website on Monday said.
Prime Minister Viktor Orban, who has built a border fence and rejected a European Union decision to accept asylum seekers, has further boosted his massive lead before next year's elections by waging a relentless campaign against Soros. In addition to the survey, Orban has imposed stricter oversight of non-governmental organizations designated as "foreign-funded" and plastered Hungary with disparaging billboards of Soros, a proponent of open societies and one of the biggest funders of NGOs in eastern Europe.
"I can't remain silent any more because I fear the recent announcement that the Hungarian intelligence services will start an investigation means there is a danger that not only organizations but individual leaders will be persecuted," Soros said in an interview published on the Financial Times website on Monday.
'Post-Christian World'
On his own website, Soros refuted statements the Hungarian government attributed to him in the national survey, including that he's instigating a political campaign against countries opposing immigration or that he is seeking milder criminal sentences for immigrants. He also pointed out that his policy recommendations had changed since he said the EU would have to accept a million asylum-seekers annually. While in more recent pronouncements he advocated welcoming 300,000 people per year, the Hungarian government keeps referring to his earlier statement.
Orban has accused Soros of helping to push Europe into a "post-Christian and post-nation world" by urging the world's largest trading bloc to accept mostly Muslim immigrants and recommending changes to weaken the power of national leaders. Orban is a proponent of the "illiberal state" with a powerful executive, modeled on more authoritarian regimes such as Russia and Turkey.
The Hungarian parliament's National Security Committee will discuss the findings of intelligence services about Soros's activities at a meeting on Tuesday, a spokeswoman for the committee said by phone.
"Soros is now openly threatening Hungary and has personally joined the battle because Hungary's migration policy refuses to yield to the forces that back immigration," Gergely Gulyas, head of the ruling party's parliamentary group, said at a briefing on Monday, according the party's website.
Soros said Orban's campaign in Hungary was "stoking anti-Muslim sentiment and employing anti-Semitic tropes" reminiscent of the pre-World War II era and served to divert voters' attention from corruption as well as troubles in health care and education. The ruling Fidesz party, which earlier this month re-elected Orban as its chairman, leads all rivals ahead of elections likely to take place in April, putting Orban on course for a fourth term in office in two decades.
Before it's here, it's on the Bloomberg Terminal.
LEARN MORE