Murdoch Sued Over Sexual Harassment at Fox News by Pension
By
Fund says board failed to address hostile work environment

Estate of Fox News founder Ailes named as defendant in suit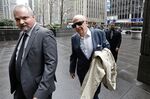 A Michigan municipal pension fund accused News Corp. executive chairman Rupert Murdoch of failing to address a hostile work environment and sexual harassment at Fox News.
The fund sued in Delaware state court Monday accusing Murdoch, his sons Lachlan Murdoch and James Murdoch, and other board members of breaching their fiduciary duty. The estate of the late Fox News founder Roger Ailes was also named as a defendant.
Since 2004, there have been more than a dozen instances of sexual harassment at the television network, including some involving Ailes and former star Bill O'Reilly, according to the complaint filed by the City of Monroe Employees' Retirement System, and the company has paid more than $55 million in settlements. Fox News also paid Ailes more than $46 million more than he should have received if terminated for cause over harassment claims, the pension fund alleges.
"The company has not yet fully addressed the historic culture of harassment, discrimination and retaliation that had taken hold due to years of Ailes's unchecked behavior," the fund alleges.
The fund is seeking damages and a finding of unjust enrichment against the estate of Ailes, as well as improvements to internal controls and board oversight to address sexual and racial harassment and discrimination.
The case is City of Monroe Employees' Retirement System v. Rupert Murdoch et al, 2017-0833, Court of Chancery of the State of Delaware.
— With assistance by Anousha Sakoui
Before it's here, it's on the Bloomberg Terminal.
LEARN MORE