Norway's PM Isn't Worried by Her Country's Weak Exchange Rate
By
Krone has slumped on fears a housing correction is under way

Prime Minister Solberg says weak krone will help exporters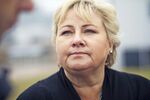 The prime minister of Norway welcomed the weak exchange rate that's been triggered by fears of a protracted slump in the housing market.
The currencies of Norway and Sweden plummeted last week as investors reacted to data pointing to housing-market corrections after years of record-low interest rates and booming property prices.
Though Prime Minister Erna Solberg says it's "hard to speculate" on the actual forces driving exchange-rate moves, she says the selloff isn't grounds for concern in her center-right government.
"I'm not overly worried about fast moves in the krone," she said in an interview after a speech outside Oslo. "A weak krone level is pretty good for Norwegian business and competitiveness."
The krone sank 2.4 percent against the euro last week, its biggest weekly drop since March. On Monday, it lost as much as 0.4 percent.

Norwegian housing prices recovered a bit in October after falling for six straight months, but are still down about 2 percent from a peak in March. The housing market was one of the main driver of growth during Norway's downturn, compensating for the country's battered oil industry after a slump in crude prices.
In Oslo, house prices have tumbled over the past months after the government this year introduced a temporary tightening of lending standards to combat accelerating prices and rising consumer debt. Now, pressure is growing on the government to roll back those measures and prevent a deeper downturn from taking hold.
A report last week showed the recovery from the nation's oil shock is now leveling off, with mainland economic growth expanding 0.6 percent in the third quarter, the same as the prior period.  
The government, currently in talks on next year's budget, wants to pare back some of the historic fiscal stimulus it has delivered in past years. The central bank is also signaling an interest rate increase could come as early as late next year.  

Solberg said she hopes to have a budget agreement ahead of a self-imposed deadline on Monday, but that she "wasn't 100 percent sure" a deal would get done by then.  
Before it's here, it's on the Bloomberg Terminal.
LEARN MORE