May Wants Something in Return as Brexit Money Offer Set to Rise
By and
Premier to meet EU Council President Tusk and others on Friday

U.K. wants to make sure it gets something in return for offer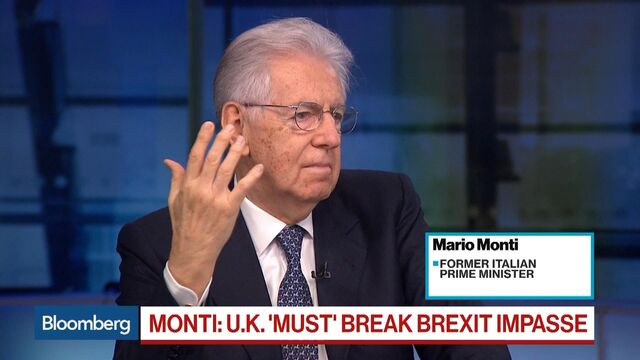 Follow @Brexit for all the latest news, and sign up to our daily Brexit Bulletin newsletter.
Prime Minister Theresa May is ready to put more money on the table to settle the Brexit divorce bill -- but the Brits are plugging away at getting the European side to give her something in return.
"We're headed in the right direction and what matters now is that the U.K. and EU take a step forward together," James Slack, May's spokesman, told reporters on Tuesday in a sign that any improved offer on the bill must be matched with a pledge to start talking about trade.
Members of her cabinet's Brexit sub-committee met Monday to thrash out a strategy that would be acceptable to both the pro- and anti-European factions of her senior team. Specific figures and scenarios are subject to negotiation, he said in response to reports that U.K. will up offer to EU to 40 billion pounds -- 45 billion euros or $53 billion.
Moreover, the EU isn't demanding numbers at this stage but rather a clear idea from the U.K. of where it thinks it's on the hook for liabilities accrued during membership.
The government does not agree to give the European Court of Justice a role guaranteeing the rights of EU citizens in the U.K. after Brexit, Slack said, a explicit denial of a report Tuesday by ITV's Robert Peston. The role of the ECJ will end after the two-year transition that the U.K. hopes will follow on March 29, 2019 -- when the country will formally leave.
May, who meets some EU leaders on Friday, is seeking to break an impasse in negotiations ahead of a key summit in mid-December. With just 16 months to go until Britain leaves the bloc, talks are deadlocked mainly because of the financial settlement, and discussions of future trading terms can't even begin until the EU side is happy with Britain's offer on the bill.
The EU is pushing for Britain to pay at least 60 billion euros to cover budgetary commitments and future liabilities such as pensions for EU civil servants. In September, May said she will make 20 billion euros of budget payments after Brexit and has since said they are going through EU demands line by line.
On the bill, the choreography is going to be key.
The Financial Times reported that the government won't put the offer to Brussels until Dec. 8, well after the deadline set by European officials, and just before the crunch summit on Dec. 14-15. That's cutting it close as the conclusions of such summits are usually drawn up in advance: EU ambassadors are due to draft the statements on Dec. 6.
But there's a session of sherpas – the representatives of EU leaders – on Dec. 11 and the U.K. may be aiming to land its offer in time for this meeting. Brexit Secretary David Davis told an audience of mostly German businessmen on Friday that "we will have pretty much continuous negotiations" between now and the summit.
That would fit the U.K.'s long-held strategy of seeking to interact with leaders rather than the Commission. EU chief Brexit negotiator Michel Barnier pushed back against tying the bill to trade in a meeting with EU ministers in Brussels on Monday, according to an EU official with knowledge of the meeting.
Irish Headache
Just as progress on the bill appears within reach, the issue of the Irish border has come back to the fore after some on the U.K. side had considered it parked until the next stage of talks. Barnier took a tough line in a speech on Monday, saying it was up to "those who wanted Brexit" to find a way of avoiding the U.K.'s new border with the EU becoming a hard border dividing the island.
And even once the hurdles of Ireland, the bill, and citizens' rights are passed, the trade talks won't be easy, Barnier warned. If Britain wants a deep and broad trade deal, it needs to stick to European standards rather than embracing American ones instead.
"There will be no ambitious partnership without common ground in fair competition, state aid, tax dumping, food safety, social and environmental standards," Barnier said. "It is not only about rules or laws. It is about societal choices -– for health, food standards, our environment and financial stability."
Read more: The Brexit Bill and Whether Britain Will Pay Up: QuickTake Q&A
Monday's discussions in London, which involved members of the cabinet like Foreign Secretary Boris Johnson, who campaigned for Brexit, alongside those, like May, who opposed it, were constructive, according to a person who asked not to be named because the talks were private. Northern Ireland Secretary James Brokenshire did not attend, in spite of the importance of the province to any agreement.
— With assistance by Robert Hutton, Tim Ross, and Ian Wishart
Before it's here, it's on the Bloomberg Terminal.
LEARN MORE