Merkel's Stumble Slows Leadership Drive for Paris Ally Macron
By , , and
German partnership needed to push Macron's EU proposals

Macron spoke with Merkel Sunday as coalition talks collapsed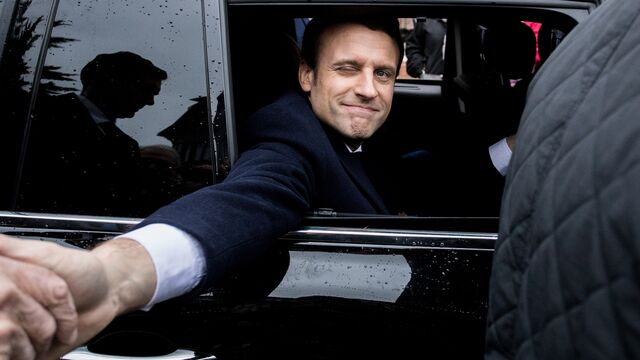 French President Emmanuel Macron, who has laid out a series of far-reaching proposals for Europe, called for a "stable and strong" Germany after Chancellor Angela Merkel's failure to form a government put some of his continental ambitions on hold.
Macron, who spoke to Merkel on Sunday night, needs the backing of Germany to bolster his plan for closer integration in the region. For the 39-year-old politician the chancellor's fate is crucial since Germany is France's main political and economic partner.
"Macron is forced to go on standby mode," said Bruno Cautres, a professor at SciencesPo university. "He'll have to slow his European plans no matter what, because without Germany he can't move ahead -- especially on anything regarding the euro zone and its economy."
"So he finds himself in an ambiguous situation: he is the leader of Europe now, fully ready to push ahead his plans. But he's a leader that can't do much," according to Cautres.
The French president has laid out his vision for Europe, ranging from harmonizing corporate taxes to a common budget for investments in the euro zone. He has sold tough labor and tax measures at home as needed medicine to win the trust of German leaders and get them on board with greater burden-sharing in Europe. Without a working government in Berlin, those plans are in limbo.
Stable, Strong
"We're hoping, for Germany and for Europe, that our principal partner will be stable and strong to advance together," Macron's office said in a statement Monday. "Meanwhile, we will continue to work with the German authorities because the current government remains in power."
For the national afternoon newspaper Le Monde, the German crisis could have considerable side effects in Europe.
"German political leaders must be conscious of their responsibilities" with European neighbors, especially France, the newspaper wrote in an editorial. "The French-German tandem seemed to be back in the saddle" since Macron's May election, Le Monde said, but added that the talks' failure is "plunging Germany into a severe political crisis and that all of Europe will pay a price for it."
Macron is meeting Monday with leaders of France's parliament and heads of its political parties to discuss the country's positioning for the European Parliament elections in 2019.
Slow Down
"It could end up being good for Macron as the tough liberals are out, but it could also slow down all the European plans he has put on the table," said Ludovic Subran, chief economist at Euler Hermes in Paris. "It puts Europe's window of opportunity at risk."
A month of German coalition talks collapsed just before midnight Sunday as disputes among a grab-bag of disparate parties over migration and other polices led the Free Democrats -- referred to frequently as the Liberals -- to walk out. Free Democrats' leader Christian Lindner had expressed interest in Macron's proposals to re-energize European integration, but had said he'd oppose any burden-sharing that would weigh on German taxpayers, and he's suggested some countries could leave the euro zone.
At the start of his talks on Monday, Macron said France has "no interest" in having a German political stalemate. And a couple hours later he added the current situation in Germany "only reinforces the necessity for France to propose, to take initiatives, to work on an ambitious European project, with our German partner," according to his office.
— With assistance by Geraldine Amiel
Before it's here, it's on the Bloomberg Terminal.
LEARN MORE