Guangzhou Auto Looks to Enhance China Tie-Up With Fiat
Bloomberg News
Automakers are in talks to widen cooperation scope, Feng says

Models, production, sales are at the core of discussions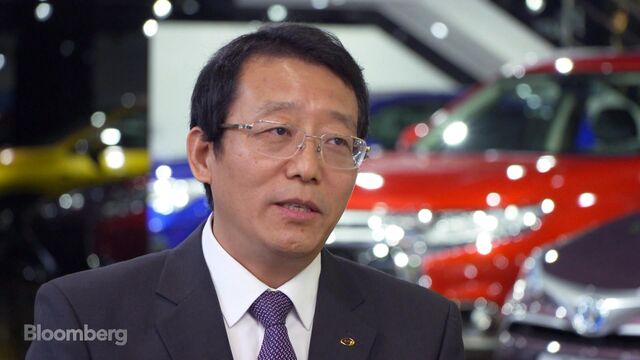 Guangzhou Automobile Group Co. is in talks with Fiat Chrysler Automobiles NV to deepen their tie-up in China, as the world's largest car market looks to relax some regulations and the Chinese maker prepares to sell its own Trumpchi brand in the U.S.
Models, production and sales are at the core of the discussions with Fiat Chrysler, Guangzhou Automobile President Feng Xingya said. "Shareholders of both companies are exploring ways to expand the scope of cooperation," he told Bloomberg Television's Tom Mackenzie in an interview broadcast on Tuesday. A spokesman for Fiat Chrysler declined to comment.

With China increasingly accounting for a larger share of revenue, foreign automakers are bolstering their local partnerships while mainland manufacturers explore markets abroad to become globally competitive. The industry in China is bracing for changes as authorities push to phase out fossil-fuel vehicles and ease limits on foreign ownership in electric-car ventures.
"Making our company a global player is a very important breakthrough for us in our five-year plan" through 2020, Feng said in the interview. "The U.S. market is very important to Guangzhou Automobile" and achieving success there is "symbolically significant" for the company's global ambitions, he said.
Guangzhou Automobile makes vehicles in China under the Jeep and Fiat brands through a Fiat Chrysler joint venture, whose sales more than tripled to 146,439 units last year.
"GAC has a real interest in deepening relations with Fiat Chrysler to expand outside China, especially in the U.S.," said Vincenzo Longo, a strategist at IG Markets in Milan. "Fiat hasn't been able so far to catch up with competitors in China, so there is much room to improve."
Trumpchi Export
Guangzhou Automobile also has local ventures with Toyota Motor Corp. and Honda Motor Co. and the longtime manufacturing partner for carmakers plans to start exporting its own Trumpchi sport utility vehicles in the U.S. in 2019. It will move to produce in the U.S. if American consumers welcome Trumpchi models imported from China, Feng said.
"We are very satisfied with our cooperation with FCA," the executive said. "We have yet to reach a conclusion on how to cooperate with FCA when we begin manufacturing in the U.S., and we have also not begun discussions with other Chinese automakers on whether to make cars together in the U.S."
Shares of Guangzhou Automobile fell 8.3 percent on Monday in Shanghai, the biggest drop since July 2016. It completed a private placement of 753.4 million A-shares last week at a discount of 27 percent, raising 15 billion yuan ($2.3 billion). Fiat had gained 0.6 percent in Milan trading as of 10:37 a.m., taking its advance this year to 75 percent.

— With assistance by Tom Mackenzie, Haze Fan, Ying Tian, and Tommaso Ebhardt
Before it's here, it's on the Bloomberg Terminal.
LEARN MORE