Germany at a Crossroads: What Are Merkel's Options?
By and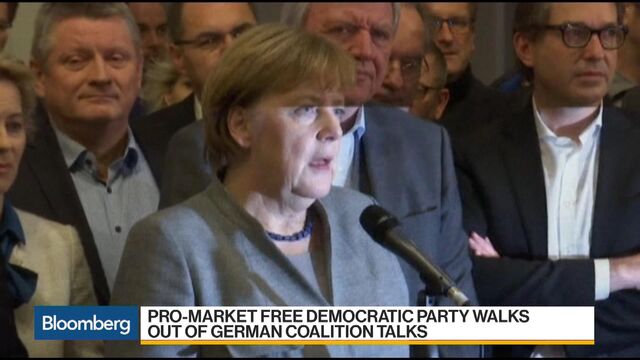 Germany stumbled into uncharted territory after Chancellor Angela Merkel's bid to form a new government fell apart. With Europe's anchor of stability suddenly fractured, Merkel's backers say she needs to act quickly to maintain her grip on power. Here's a look at her options:
New Elections
The ultimate move would be new elections, which could come as soon as this spring. This could be a popular choice with a majority of Germans in favor of heading to the polls again, according to a survey by ZDF television. But there's the risk that nothing changes, leaving the German parliament just as splintered as it is now, with six blocs and the anti-immigration Alternative for Germany as the third-biggest party.
Merkel wants to avoid a new vote, and German President Frank-Walter Steinmeier, the largely ceremonial head of state, appears to have her back. The former Social Democrat politician poured cold water on the prospect by urging parties to get back to the negotiating table. "Those who seek political responsibility in elections must not be allowed to shy away from it when they hold it in their hands," Steinmeier said after talks with Merkel.

Grand Coalition 3.0
Steinmeier was a senior member of the Social Democrats before becoming president earlier this year. He wasn't specific about any preferred outcome in the coalition talks, saying he would hold talks with all parties include his old colleagues at the SPD. He could nudge the two together, citing national interest. That would be a revival of the centrist political alliance that underpinned two of Merkel's terms. Still, it won't be easy. Martin Schulz, the SPD leader who ran against Merkel, reinforced his aversion to the so-called grand coalition after his party fell to its worst electoral defeat since World War II in September.
Minority Government
Merkel could also try her hand at a minority government, relying on shifting alliances to push through her agenda. That could suit the wily politician, who is well-known for backroom dealings and a non-ideological approach to governing, but it would hardly be the stable government she promised. 
Try Again
With Steinmeier telling the parties to "rethink their positions," pressure will mount on Christian Lindner, the brash head of the Free Democrats, who scuttled the talks as Merkel's conservative bloc and the Greens moved closer together. Lindner's power play could end up backfiring if the FDP ends up a marginal opposition party behind the Alternative for Germany. But Steinmeier's push for compromise could just end up prolonging the uncertainty.
Before it's here, it's on the Bloomberg Terminal.
LEARN MORE