Second Woman Accuses Franken of Inappropriate Touching
By
Minnesota lawmaker accused of grabbing woman's buttocks

Franken previously was accused of unwanted kiss, touching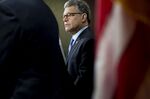 Democrat Al Franken faces a second allegation of touching a woman inappropriately, this time while he was a U.S. senator.
Lindsay Menz, 33, told CNN that Franken groped her buttocks while the two took a picture at the Minnesota State Fair in 2010 in his home state. Franken joined the Senate in 2009.
"I felt gross. It'd be like being walking through the mall and some random person grabbing your butt," Menz told CNN. "You just feel gross. Like ew, I want to wash that off of me."
Franken said in a statement to CNN that he didn't recall taking the picture, but regretted that Menz had a negative memory of the incident.
"I take thousands of photos at the state fair surrounded by hundreds of people, and I certainly don't remember taking this picture," Franken said. "I feel badly that Ms. Menz came away from our interaction feeling disrespected."
Both parties are grappling with how to calibrate their responses to such allegations at a time when sexual harassment and assault are drawing a heightened level of attention from the public.
Alabama Controversy
In Alabama, multiple women have accused GOP Senate candidate Roy Moore of pursuing them when they were teenagers and he was in his 30s. One woman said he sexually assaulted her when she was a teenager. Moore denied any wrongdoing. Some Republican Senate leaders also said they would explore taking steps to expel Moore if he wins the Dec. 12 special election.
Menz's accusation comes less than a week after Leeann Tweeden, an anchor for radio station KABC in Los Angeles, said Franken forcibly kissed her and then posed for a photograph appearing to grope her as they were on a U.S. military-sponsored entertainment tour to the Middle East in 2006.
Franken, 66, said he didn't remember forcibly kissing Tweeden, but apologized for a photo that showed him touching her breasts through a flak jacket while she was sleeping. Democrats condemned his conduct and Franken said he would cooperate with an ethics committee investigation.
Following Tweeden's allegations Franken has canceled appearances in Atlanta and Miami to promote his new book "Al Franken, Giant of the Senate." He was also cut from an appearance in a PBS special honoring David Letterman.
Franken has so far rebuffed calls from some liberal activists and Democrats in his home state to resign from the Senate. Among his colleagues in the chamber, Republicans as well as Democrats have mostly stopped short of demanding Franken's ouster.
Senate Majority Leader Mitch McConnell of Kentucky last week said the matter should be reviewed by ethics committee, as did Senate minority leader Chuck Schumer of New York.
Some lawmakers have questioned how much authority the ethics committee has over actions committed before a member joined the Senate. That won't be an issue with the latest allegations against Franken.
Before it's here, it's on the Bloomberg Terminal.
LEARN MORE